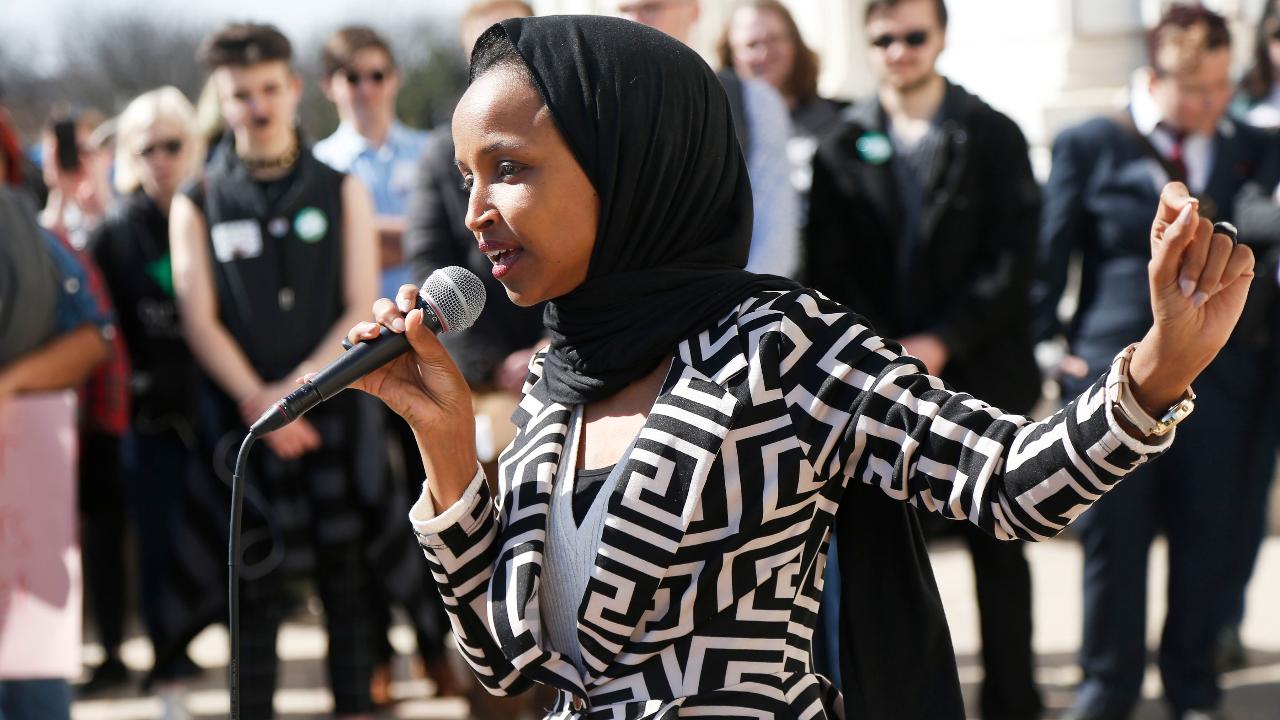 Although not mentioned by name, Rep. Ilhan Omar, D-Minn., clearly was on the minds of many speakers at the annual conference of the American Israel Public Affairs Committee (AIPAC) in Washington.
Speaking at the conference on Sunday, House Majority Leader Steny Hoyer of Maryland hit back at some of the most visible new Democrats in Congress: "By the way, there are 62 new Democratic freshmen in the House, not three."
Hoyer apparently was referring to Reps. Alexandria Ocasio-Cortez of New York, Rashida Tlaib of Michigan and Omar, who regularly have fought the Trump administration's policies since entering Congress.
Meghan McCain, daughter of the late Arizona Republican Sen. John McCain, said Sunday: "Many of you know that there are people out there today, including in the halls of Congress, who believe that America supports Israel because AIPAC is powerful."
Omar drew condemnation from members of both parties last month after she suggested in a tweet that AIPAC has been paying members of Congress to support Israel. She later apologized for the tweet — and for other comments widely criticized as anti-Semitic — but also insisted on what she called "the problematic role of lobbyists in our politics."
Hoyer, in his speech Sunday, also condemned sanctions against Israel: "Support for Israel should never be a partisan issue or be perceived as a partisan issue."
At the end of his speech which lasted about 15 minutes, he said, "Yes, we stand with Israel because we stand for America's security. Yes, we stand with Israel because we stand for freedom. Yes, we stand with Israel because we reject bigotry and prejudice."
Multiple Democrats competing for the 2020 presidential nomination said Thursday they wouldn't attend.
FAR-LEFT MOVEON.ORG ASKS 2020 PRESIDENTIAL CANDIDATES TO SKIP PRO-ISRAEL AIPAC CONFERENCE
Sen. Elizabeth Warren of Massachusetts, former U.S. Rep. Beto O'Rourke of Texas, Sen. Kamala Harris of California and Sen. Kirsten Gillibrand of New York were among the 2020 contenders who said they wouldn't attend, along with Sen. Bernie Sanders, I-Vt.
New York City Mayor Bill de Blasio, as The New York Post reported, assured the conference Sunday afternoon Democrats as a whole were not moving away from supporting Israel.
CLICK HERE TO GET THE FOX NEWS APP
"There's a rather cynical attempt right now to portray some kind of drift that I don't see and I don't experience," de Blasio said. "Again the vast majority of Democrats and the vast majority of progressives believe in the state of Israel and believe the United States of America needs to defend the state of Israel."
"Period, period," the mayor added.
The Associated Press contributed to this report.
Source: Fox News Politics
The summary of special counsel Robert Mueller's report "raises as many questions as it answers," and thus the full document should be released to the public, House Speaker Nancy Pelosi and Senate Minority Leader Charles Schumer said in a joint statement on Sunday, The Hill reported.
"The fact that Special Counsel Mueller's report does not exonerate the president on a charge as serious as obstruction of justice demonstrates how urgent it is that the full report and underlying documentation be made public without any further delay," the Democratic Party leaders said.
They issued the statement after Barr sent a letter to Congress summarizing the key findings of Mueller's investigation into the Trump campaign's ties with Russia.
Barr stated in the letter that Mueller found no conclusive evidence that the Trump campaign conspired with the Russian government to interfere in the 2016 election. However, on the issue of obstruction of justice, the attorney general wrote that "while this report does not conclude the president committed a crime, it does not exonerate him."
Several Democratic presidential candidates emphasized that point to press for a full release of the report.
New Jersey Sen. Cory Booker tweeted that "The American public deserves the full report and findings from the Mueller investigation immediately – not just the in-house summary from a Trump Administration official."
Source: NewsMax Politics
Mar 24, 2019; San Jose, CA, USA; Virginia Tech Hokies forward Kerry Blackshear Jr. (24) shoots against Liberty Flames forward Scottie James (31) during the second half in the second round of the 2019 NCAA Tournament at SAP Center. Mandatory Credit: Kyle Terada-USA TODAY Sports
March 25, 2019
Virginia Tech post player Kerry Blackshear Jr. scored 19 points and grabbed nine rebounds to lead the fourth-seeded Hokies over Liberty 67-58 in a second-round game in the East Region in San Jose, Calif., on Sunday.
Blackshear's work inside helped offset the early hot shooting of the 12th-seeded Flames, who went cold in the second half, going almost seven minutes without a basket until Georgie Pacheco-Ortiz's 3-pointer brought Liberty within 59-54 with 2:24 left.
Virginia Tech point guard Justin Robinson responded with a jumper, and Blackshear made a layup to help the Hokies hold off Liberty (29-7).
Virginia Tech (26-8) set a school record for victories and will play No. 1 seed Duke on Friday in the Sweet 16 in Washington, D.C. The Hokies beat the Blue Devils 77-72 on Feb. 26 in the teams' only meeting this season, though Blue Devils star freshman Zion Williamson was out with a knee injury.
Ahmed Hill scored 14 points for Virginia Tech, and Ty Outlaw had 10 points and 11 rebounds. Robinson, playing in his second game after missing several weeks because of a foot injury, came off the bench to post 13 points and four assists.
Liberty freshman guard Darius McGhee made 5 of 11 3-point shots for a team-high 15 points. Lovell Cabbil Jr. and Pacheco-Ortiz each scored nine. Caleb Homesley, who scored a career-high 30 points in a first-round upset over Mississippi State, shot 3 of 11 from the field and finished with eight points.
Virginia Tech used an 11-0 run to take a 52-44 lead midway through the second half as Liberty endured a five-minute scoring drought. The Flames shot 38.3 percent (18 of 47) for the game.
McGhee sparked the Flames in the first half, hitting 4 of 7 shots from behind the arc. He had scored only three points total in the previous three games.
Liberty led 26-18 before Blackshear led an 8-0 run to tie the game. The Flames scored the next six points, but Hill hit a 3-pointer with four seconds left to bring the Hokies within 32-29 at the half. Blackshear had nine points and seven rebounds before the break.
Virginia Tech will be making its second Sweet 16 appearance in school history — its first since the tournament expanded to 64 teams. The Hokies were also part of the final 16 teams in 1967, when they needed just one victory to reach that round.
–Field Level Media
Source: OANN
FILE PHOTO: Charles Evans, president of the Federal Reserve Bank of Chicago, poses for a photo in Palm Beach, Florida, U.S. January 17, 2018. REUTERS/Ann Saphir
March 25, 2019
By Noah Sin
HONG KONG (Reuters) – Chicago Federal Reserve Bank President Charles Evans said on Monday that it's a good time for the U.S. central bank to pause and adopt a cautious stance even though the economy remains in a strong position.
Evans was speaking at the Credit Suisse Investment conference in Hong Kong.
The comments were among the first by policymakers following the Fed's decision last Wednesday to signal an end to its tightening after it abandoned plans for further rate hikes in 2019.
(Reporting by Noah Sin; Editing by)
Source: OANN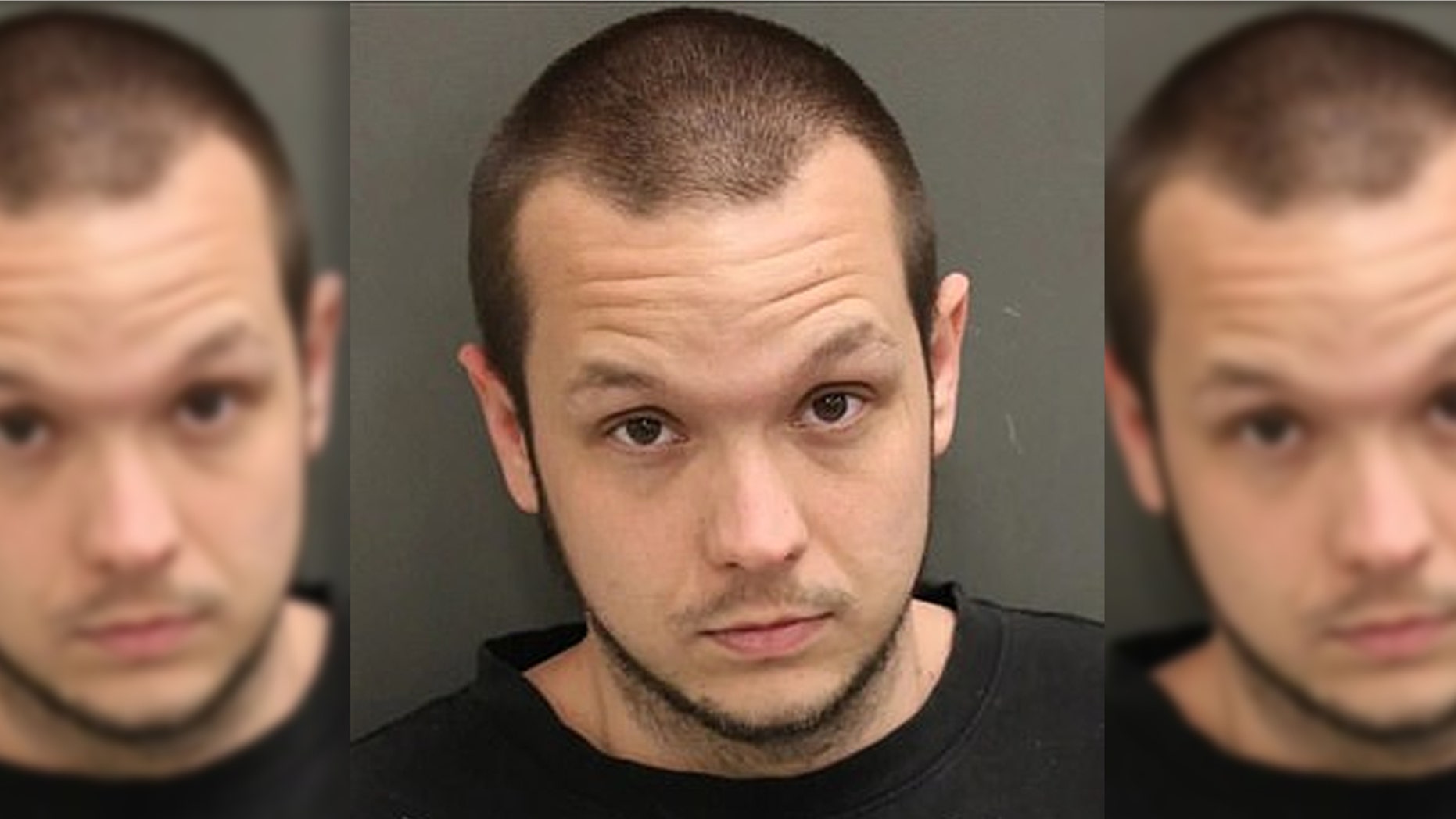 A man was charged with sexual battery after he allegedly hired a driver to transport an underage girl from Texas to his family's home in Florida before holding her captive for three days, police said.
Richard Brown, 25, allegedly convinced the young girl he was "Instagram famous" and could provide for her. The two met on the social-media site and chatted for several months before Brown convinced her to visit him at his parents' home in Apopka, Fla., near Orlando, according to an affidavit. He then allegedly paid over $800 for the car taking her from San Antonio to Apopka.
When she got there, however, she realized that he was not who she believed he was — but he responded by claiming she "owed him for bringing her out here," investigators said. She allegedly was sexually battered several times while the suspect took drugs including cocaine over the course of three days, the affidavit stated.
DOG DIES AFTER ATTACKING GUNMAN, PROTECTING FAMILY DURING SHOOTING
Eventually, after Brown fell asleep, the girl was able to escape the home and tried to walk to a fire station while video-chatting with her mother, according to investigators, who added that she ultimately called 911.
"We see several inconsistencies with this affidavit," Brown's attorney told Fox 35. "The victim said to police she met Mr. Brown through Instagram but somehow her account was hacked, couldn't download the messages to show police."
CLICK HERE TO GET THE FOX NEWS APP
Brown reportedly said that he was friends with the girl and that they had not had sex, and he denied taking drugs.
Brown reportedly faced three charges of sexual battery on a child aged 12-17, and one charge of contributing to the delinquency of a minor. He was behind bars in Orange County on $40,000 bond.
Source: Fox News National
Mar 24, 2019; Storrs, CT, USA; UConn Huskies forward Napheesa Collier (24) makes the basket against Buffalo Bulls guard Autumn Jones (13) during the first half in the second round of the 2019 NCAA Tournament at Gampel Pavilion. Mandatory Credit: David Butler II-USA TODAY Sports
March 25, 2019
Napheesa Collier collected 27 points and 16 rebounds as second-seeded Connecticut advanced to the Sweet 16 for the 26th straight year on Sunday with an 84-72 victory over 10th-seeded Buffalo in an NCAA Women's Tournament Albany Region game at Storrs, Conn.
Collier shot 12-for-15 from the floor for the Huskies (33-2), who bolted out of the blocks with a 15-0 run and survived some anxious moments in the fourth quarter to record their 94th consecutive home win.
Katie Lou Samuelson and Christyn Williams each scored 17 points and Crystal Dangerfield added 11 for Connecticut, which will face the winner of Monday's contest pitting third-seeded Maryland (29-4) against sixth-seeded UCLA (21-12).
Buffalo's Cierra Dillard overcame a sluggish start to score 29 points before being hampered by an apparent ankle injury in the fourth quarter. Adebola Adeyeye, Theresa Onwuka and Brittany Morrison each had five offensive rebounds for the Bulls (24-10), who were bidding for their second consecutive Sweet 16 appearance and third overall.
Dillard drilled a 3-pointer to trim the deficit to 13 at 73-60 with 8:46 to go in the fourth quarter, but Collier answered with a layup. Dilliard was injured on next possession after stepping on the foot of Collier and remained on the floor for several moments before exiting under her own power.
Collier's layup gave the Huskies a 75-60 lead with exactly eight minutes to go, but the team went 1-for-9 with five turnovers during the next 5:45 as Buffalo crept within eight points.
Collier ended the drought with a layup and an injured Dillard scored four quick points — two one each side of Megan Walker's layup. Connecticut made its free throws down the stretch to seal the win.
Collier scored six quick points and the Huskies took advantage of six Buffalo turnovers to take a commanding 15-0 lead to start the game.
Williams drilled back-to-back 3-pointers to push Connecticut's lead to 21-4, but Buffalo answered by scoring the final nine points of the first quarter to cut the deficit to 27-15.
The Huskies threatened to run away as Samuelson scored five straight points during a 21-9 run to push the advantage to 48-24. Buffalo, which had 11 offensive rebounds in the first half, continued to work the glass and went on a 13-4 run prior to intermission.
–Field Level Media
Source: OANN
Special Counsel Robert Mueller's final report sounds like a "law school exam," where he shirked his job and didn't have "the guts" to make a decision on whether President Donald Trump obstructed justice, Harvard Law professor emeritus Alan Dershowitz said Sunday during an appearance on Fox News where he also slammed CNN personalities and guests who "misinformed the American public."
Mueller turned in his final report Friday, and Attorney General William Barr on Sunday in a letter to Congress said the investigation concluded there was no collusion between the Russian government and the Trump campaign during the 2016 presidential election.
On the topic of potential obstruction of justice on the part of President Donald Trump, the special counsel referred the question of criminality to the attorney general.
"I thought it was a cop out for him to say there was not enough evidence to indict, but it's not an exoneration, and we're going to put a report out," Dershowitz told anchor Shannon Bream "… It sounds like a law school exam. That's not the job of the prosecutor. The job of the prosecutor is to decide yes or no. Make a decision."
The TV personalities and guests on CNN who predicted Mueller's probe would result in indictments for collusion and obstruction "should be hanging their heads in shame," Dershowitz added.
"I have to tell you, they should be hanging their head in shame when you think about how many people went out on a limb and predicted there would be indictments for obstruction, there would be indictments for collusion, there would be indictments for this and for that," he.
"They made it seem like it was an open and shut case, and they misinformed the American public, and they have to have some public accountability when you say things that turn out not to be true."
Source: NewsMax Politics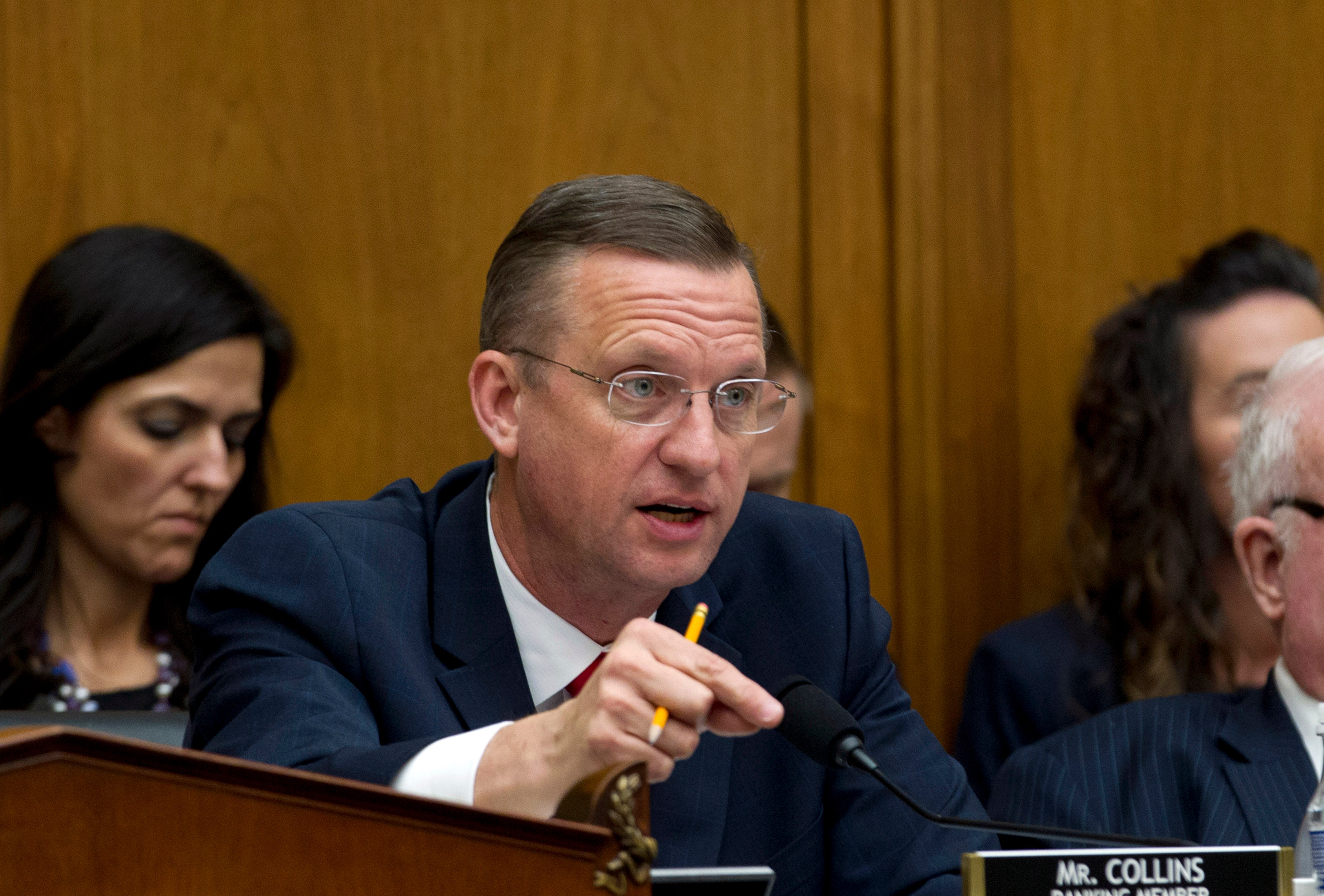 The top Republican on the House Judiciary Committee challenged House Intelligence Committee chairman Adam Schiff, D-Calif., to apologize for repeatedly claiming that there was evidence of collusion between the Trump campaign and Russian officials after Attorney General William Barr said Sunday that Special Counsel Robert Mueller's investigation had found no such thing.
"My question is to Adam Schiff, who said just recently, we know that there's collusion and indictments are probably coming and collusion is there," Rep. Doug Collins, R-Ga., told Fox News' Bret Baier on "The Mueller Report Special." "Where's the apology, Mr. Schiff? Where's the apology saying there is no collusion? That's what I'd like to know."
Hours before Barr's letter summing up the "principal conclusions" of Mueller's investigation was made public, Schiff told ABC News' "This Week" that he believed there was "significant evidence of collusion" between Moscow and the Trump campaign.
"There's a difference between compelling evidence of collusion and whether the special counsel concludes that he can prove beyond a reasonable doubt the criminal charge of conspiracy," said Schiff, who added that while he trusted Mueller's "prosecutorial judgment… that doesn't mean, of course, that there isn't compelling and incriminating evidence that should be shared with the American people."
READ THE MUELLER REPORT FINDINGS
"Think about what [Democrats have] been saying," Collins told Baier on Sunday night. "Sen. [Richard] Blumenthal [of Connecticut], Reps. [Eric] Swalwell, [Maxine] Waters, others who have been jumping on, saying 'We have plenty of evidence of collusion, we know that collusion exists.' And, all of these statements now came crashing down in a very thorough investigation by Robert Mueller."
On Sunday evening, Schiff called for the full Mueller report to be released, tweeting: "Mueller did not find sufficient evidence to establish conspiracy, notwithstanding Russian offers to help Trump's campaign, their acceptance, and a litany of concealed interactions with Russia. I trust Mueller's prosecutorial judgement [sic], but the country must see the evidence."
Schiff is one of several Democrats who has vowed to use subpoena power to compel Barr and others to testify about the investigation if necessary. After receiving Barr's letter summarizing Mueller's report, House Judiciary Committee Chairman Jerrold Nadler, D-N.Y., tweeted that he soon would call the attorney general to testify before the panel.
CLICK HERE TO GET THE FOX NEWS APP
"If [Nadler] wants to call the attorney general, I'm sure the attorney general would come to the Hill," Collins said Sunday. "That's part of what oversight on the Judiciary Committee is. The problem I have with [Nadler] right now is on several occasions today, he seems to be impugning the integrity of the attorney general and implying that the attorney general was not acting fairly in his own job.
"That is an issue that has been probably the more concerning part of today, a day which should be good news for Americans," Collins added. "Good news to know that there was no collusion. Good news to know that there was no obstruction and that their president who has been working hard for them is continuing to do that. That's the concerning part, but that's the good part also for America today."
Fox News' Bret Baier contributed to this report.
Source: Fox News Politics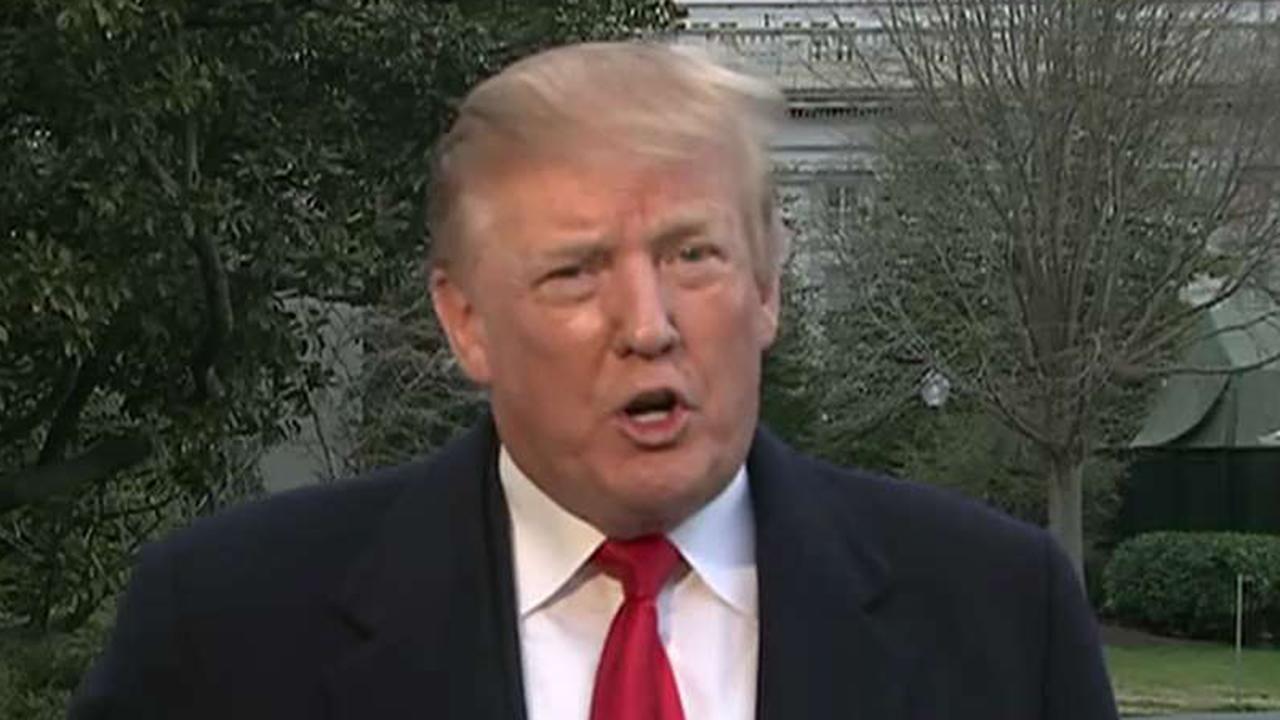 House Speaker Nancy Pelosi and Senate Minority Leader Chuck Schumer said in a blistering statement Sunday that Attorney General William Barr is "not a neutral observer," urging the full release of special counsel Robert Mueller's report after Barr penned a letter summarizing Mueller's findings.
Pelosi, D-Calif., and Schumer, D-N.Y., said Barr's letter to Congress "raises as many questions as it answers."
In their joint statement, the leaders said Barr's past "bias" against the special counsel's inquiry showed he was "not in a position to make objective determinations."
They added, "the fact that Mueller's report does not exonerate the president on a charge as serious as obstruction of justice demonstrates how urgent it is that the full report and underlying documentation be made public without any further delay."
Barr wrote that Mueller did not establish evidence that President Trump's team or any associates of the Trump campaign had conspired with Russia to sway the 2016 election – "despite multiple offers from Russian-affiliated individuals to assist the Trump campaign." He also wrote that on obstruction-of-justice claims, "The Special Counsel states that 'while this report does not conclude that the President committed a crime, it also does not exonerate him.'"
Senate Minority Whip Dick Durbin, D-Ill., also released a statement dovetailing with top Democratic leadership: "Attorney General Barr has the authority to make the full Mueller findings public with minimal redactions. He must do so as quickly as possible. The 'summary' document he provided today creates more questions than it answers, particularly with respect to obstruction of justice by the President."
He added: "The American people – who for two years have waited patiently for the Mueller investigation to conclude – deserve the full truth in Special Counsel Mueller's own words."
The heads of three of the House's most influential committees also said the full report on Russian election interference and Trump must be made public.
Reps. Adam Schiff, D-Calif., Jerry Nadler, D-N.Y. and Elijah Cummings, D-Md. – the chairs respectively of the House Intelligence, Judiciary and Oversight Committees – issued a joint statement Sunday, noting: "We … call for Attorney General Barr to come forward to testify before the House Judiciary Committee without delay.  Far from the 'total exoneration' claimed by the President, the Mueller report expressly does not exonerate the President.  Instead, it 'sets out evidence on both sides of the question' of obstruction—including the evidence that President Trump attempted to obstruct justice."
They added: "These shortcomings in today's letter are the very reason our nation has a system of separation of powers.  We cannot simply rely on what may be a partisan interpretation of facts uncovered during the course of a 22-month review of possible wrongdoing by the President. The American people deserve to see the facts and judge the President's actions for themselves."
The Associated Press contributed to this report.
Source: Fox News Politics
FILE PHOTO: Special Counsel Robert Mueller departs after briefing the U.S. House Intelligence Committee on his investigation of potential collusion between Russia and the Trump campaign on Capitol Hill in Washington, U.S., June 20, 2017. REUTERS/Aaron P. Bernstein/File Photo
March 25, 2019
By Andy Sullivan
WASHINGTON (Reuters) – Special Counsel Robert Mueller has concluded that nobody associated with President Donald Trump's campaign "conspired or knowingly coordinated" with Russia during the 2016 presidential election, and U.S. Attorney General William Barr says he does not see enough evidence to charge Trump with obstruction of justice.
But that does not necessarily mean Trump is in the clear – he still faces multiple investigations into his business and other aspects of his political campaign, and Democrats are launching a wave of probes from Capitol Hill.
Following are some possible next steps as Washington continues to wrestle over Russia's role in the election, the conduct of Mueller's investigation and other aspects of the Trump-Russia saga.
HOW MUCH OF MUELLER'S REPORT CAN BE MADE PUBLIC?
Barr said he wants to release as much of Mueller's report as he can, as long as it does not undermine legal proceedings that should be kept secret, such as grand jury interviews, or interfere with other ongoing investigations. He is now going through the report to determine what can be released.
Democrats are pressing Barr to release the entire report so they can draw their own conclusions. If he does not do so, expect a protracted tug-of-war that could end up in court.
THE QUESTION OF OBSTRUCTION
Foremost on Democrats' minds is whether Trump obstructed justice by interfering with Mueller's probe and other investigations.
Barr says he did not, but he adds that Mueller presented evidence on both sides of the question. Democrats will press for access to Mueller's full report – as well as the underlying evidence he collected over the course of an investigation that interviewed 500 witnesses and issued more than 2,800 subpoenas.
The Democratic chairs of six House of Representatives committees said on Friday they expected that evidence to be turned over on request to their panels, which cover everything from taxes to banking.
The House Judiciary Committee is also expected to continue its own investigation into alleged obstruction of justice after requesting documents from 81 people and organizations several weeks ago.
TRUMP'S ALLIES SAY IT'S TIME TO MOVE ON – OR MAYBE NOT
The Russia probe has dogged Trump's presidency from his first months in office. Trump allies say it is now time to move on and focus on substantive issues like trade and the economy.
But some of Trump's biggest supporters on Capitol Hill do not want to put the issue to rest just yet.
Senate Judiciary Committee Chairman Lindsey Graham, a Republican, has said he wants to investigate whether top officials at the Justice Department discussed forcing Trump from office, and is pressing the FBI to hand over documents relating to their surveillance of Carter Page, a foreign policy adviser on Trump's election team.
BARR ON THE HILL
House Judiciary Committee Chairman Jerrold Nadler, a Democrat, said he planned to ask Barr to testify before his committee to explain why he thought Trump should not be charged with obstruction of justice.
Many Democrats are already suspicious of Barr's views on the issue. As a private lawyer, Barr wrote an unsolicited memo to the Justice Department last year arguing that Mueller's obstruction inquiry was "fatally misconceived" and saying that presidents have "all-encompassing" authority over law enforcement investigations, even those that relate to him directly.
Barr's views of presidential power are relevant not only when it comes to obstruction of justice but other issues like how much the administration is required to cooperate with congressional investigators – which will be a key issue over the next two years.
Barr faced pointed questions from Democrats during his January confirmation hearing. Any session devoted to obstruction of justice and presidential powers could be much more contentious.
MUELLER SPEAKS?
Mueller has not spoken publicly over the course of the 22-month investigation, but that might change now that his work is done.
Nadler and House Intelligence Committee Chairman Adam Schiff have said they may try to get him to testify in front of Congress. The questioning might be relatively polite – as a former FBI director and decorated Vietnam War veteran, Mueller is one of the most respected people in Washington.
But his testimony may not be that revealing. Mueller has cultivated a reputation as a scrupulous prosecutor, and he may not be willing to discuss evidence or reach conclusions not contained in his report. Also, as special prosecutor, he is required to defer to Barr as to what can be disclosed to the public.
(Reporting by Andy Sullivan; Editing by Ross Colvin and Peter Cooney)
Source: OANN
---