The Supreme Court is gearing up to decide next term whether states can ban students from using student-aid programs to attend religious institutions – an education dispute that could have major ramifications for the school choice movement.
The justices announced at the end of last month's session that they will take up the case of Espinoza v. Montana Department of Revenue — which concerns whether states can ban student-aid programs that allow families to choose religious schools for their children. In December 2018, the Montana Supreme Court struck down a tax-credit scholarship program in the state, saying the program violated the state constitution's "No-Aid clause" barring government money for religious schools because it had allowed students to use the money for that purpose.
"Every parent should have the right to choose where they send their kids to school," Kendra Espinoza, one of the plaintiffs challenging the Montana decision, told Fox News.
SEN. COLLINS REJECTED REPUBLICAN SENATOR'S OFFER TO DITCH KAVANAUGH AFTER FORD TESTIMONY, NEW BOOK CLAIMS
Others see the case as an assault on the separation of church and state.
"The decision by the court to review the Montana case signals that the majority may be gunning for the strong provisions in most state constitutions that bar public school funds from going to religion or religious schools," the Freedom from Religion Foundation, a liberal advocacy group, said in a June 28 statement.
Government money going to religious schools doesn't necessarily violate the First Amendment, but appeals courts are split on whether excluding such schools from programs like Montana's violates religious freedom.
TED CRUZ: CITIZENSHIP QUESTION ON CENSUS IS 'BASIC COMMON SENSE'
The tax-credit scholarship program, passed in May 2015, gave Montanans up to a $150 credit for donating to private scholarship organizations, which helped students pay for their choice of private schools.
It's similar to many programs across the U.S., and other states have proposed tax-credit scholarship programs but not passed them due to confusion about their legality.
FFRF attorney Patrick Elliott says the Supreme Court should leave decisions on these programs to state courts.
"I think this case involves interference with state rights," he told Fox News. "States can adopt constitutional protections without federal interference."
Espinoza said she enrolled her daughters in a private Christian school because she wanted a values-based education that would challenge them academically, but she has trouble paying for tuition and relies on scholarships. She planned to use Montana's tax-credit scholarship program.
"I've been working two and three jobs just to make ends meet," she said. "There was a question of whether I could afford it."
TEXAS LAWYERS ARGUE FOR END OF OBAMACARE IN CASE THAT COULD DECIDE FATE OF HEALTH PLAN
But the Montana Department of Revenue said providing tax credits for donations that later help pay tuition at private schools amounts to indirect funding of religious education by the state, in violation of the "No-Aid clause" – also known as a Blaine Amendment. It made a rule preventing Espinoza or other religious school families from receiving the scholarships.
Espinoza and the libertarian Institute for Justice sued the department over that rule in December 2015, but the Montana Supreme Court invalidated the entire program last year. Espinoza's lawyers say the program was voided simply because it afforded a religious option, and the U.S. Supreme Court should restore what the Montana legislature passed.
"The federal Constitution prohibits that kind of animus toward religion and the fact that animus is codified in the Montana Constitution in the Blaine Amendment only makes things that much worse," Institute for Justice senior attorney Michael Bindas said.
Blaine Amendments originated in the 1870s when, as Justice Clarence Thomas wrote in a 2000 case, "it was an open secret that 'sectarian' was code for 'Catholic.'" Thirty-seven states have Blaine Amendments today, but Bindas calls them, "vestiges of 19th century anti-Catholic bigotry."
Espinoza's lawyers also cite Trinity Lutheran, a Supreme Court case from 2017 that ruled Missouri couldn't deny a church a grant to resurface its playground simply because it was a church.
But Elliott said Blaine Amendments don't mention a specific religion and have operated without bias.
CLICK HERE TO GET THE FOX NEWS APP
"No funding of religious education was something states decided early on because they didn't want to have a religiously segregated school system," he said. "Public schools are open regardless of religious background. That's not always the case with private schools."
If the justices reverse Montana's decision, it could open the door to more scholarship and voucher programs across the U.S.
"This case has the potential to remove Blaine Amendments as a barrier to school choice throughout the country," Bindas said.
Related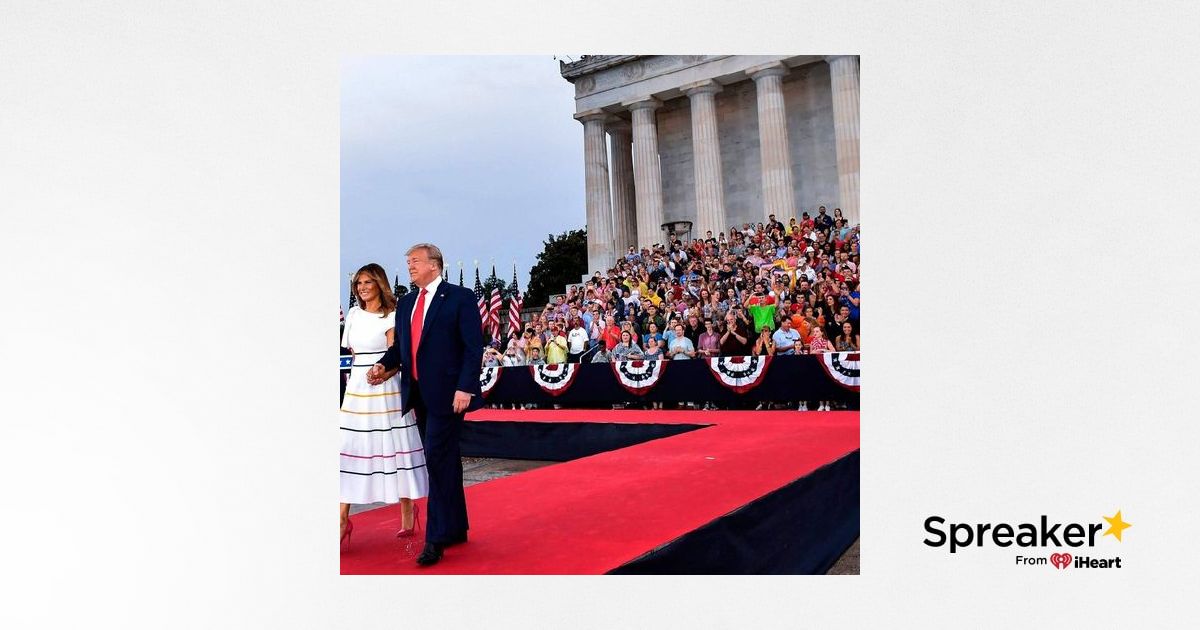 Trump saluted America in A #MAGA July 4 event, despite critics, What Do you Think About His Speech?
Trump salutes America in elaborate July 4 event, despite critics — and a downpour of rain
Despite concerns that he would use the Fourth of July event as a glorified campaign rally, President Trump used his "Salute to America" speech Thursday evening to praise the men and women of the armed forces and American exceptionalism. With the Lincoln Memorial as a backdrop and flanked by camouflaged … See More Bradley fighting vehicles, Trump stuck mainly to the script during his speech – praising the spirit that "runs through the veins of every American patriot" and attempting to strike a more unifying and conciliatory tone than he is generally known to take.
While Trump's speech set a unifying tone, the lead-up to the event was far from harmonious – with Trump's opponents,especially 2020 Democratic presidential candidates, slamming him on everything from the cost of the event to the perceived exploitation of the holiday for a political purpose. Two outside groups, the National Parks Conservation Foundation and Democracy Forward, want the Interior Department's internal watchdog to investigate what they say may be a "potentially unlawful decision to divert" national parks money to Trump's "spectacle."
White House seeking all options on citizenship question for 2020 census
President Trump on Thursday doubled down on his push for a citizenship question on the 2020 Census, promising that his administration is "working very hard" on the controversial issue — as reports say he is mulling using an executive order to get the question on the census. "So important for our Country that the very simple and basic 'Are you a Citizen of the United States?' question be allowed to be asked in the 2020 Census," he tweeted. He added that the Commerce and Justice departments were "working very hard on this, even on the 4th of July!" Earlier this week, Commerce Secretary Wilbur Ross announced that his department was going ahead with the printing of the census without the citizenship question, apparently indicating that the administration had dropped the controversial issue. That decision came after a Supreme Court ruling last week that blocked the citizenship question for the time being until more reasoning from the administration was provided.
Ocasio-Cortez calls border officials liars after new report on offensive Facebook posts
In a Twitter message Thursday, Rep. Alexandria Ocasio-Cortez, D-N.Y., branded the leadership of U.S. Customs and Border Protection as liars after a news site reported that CBP officials knew much longer than they claimed about a Facebook group on which some past and current CBP employees had posted offensive material. Ocasio-Cortez was the subject of some of this material. ProPublica, a self-described non-profit news group, reportedly has obtained screenshots of doctored images of Ocasio-Cortez, including one that shows a smiling PresidentTrump forcing her head toward his crotch.
According to Politico, top CBP officials had known about offensive posts "for up to three years" – even though officials claimed this week that they had only recently learned about them. "Looks like CBP lied," Ocasio-Cortez charged Thursday, one day after the Politico story appeared. "Reporting shows they knew about it for *years.* This is a big deal."
Ted Cruz schools Kaepernick, adds 'context' after ex-NFL star quotes Frederick Douglass 'Fourth of July' speech
Sen. Ted Cruz responded Thursday night after former NFL quarterback Colin Kaepernickposted a passage earlier on the Fourth of July from a famous speech by Civil War-era abolitionist Frederick Douglass. The passage Kaepernick cites is from Douglass' speech, "What to the Slave is the Fourth of July?" Douglass delivered to the speech at a meeting of the Rochester Ladies' Anti-Slavery Society in Rochester, N.Y., on July 5, 1852 – nearly nine years before the Civil War began.
Kaepernick posted the following portion, without adding any comments: "What have I, or those I represent, to do with your national independence? This Fourth of July is yours, not mine…There is not a nation on the earth guilty of practices more shocking andbloody than are the people of these United States at this very hour." "You quote a mighty and historic speech by the great abolitionist Frederick Douglass," Sen. Cruz writes in response, "but, without context, many modern readers will misunderstand."
Closely watched June jobs report to be released Friday
Wall Street will be closely watching Friday's release of the June jobs report, which could provide insight into whether the Federal Reserve will cut interest rates at its July meeting. As the U.S. enters the longest economic expansion on record, investors are looking at the Department of Labor's monthly payroll and unemployment data for signs that the rapid job growth over the past two years is softening and lending way to an overall growth slowdown.
TODAY'S MUST-READS
Las Vegas shooting victim's parents sue gunmaker over daughter's death.
Trump donor among seven Americans killed in copter crash in Bahamas.
Meghan McCain 'in talkso r' teturn to 'The View,' but 'some things need to change': report.
MINDING YOUR BUSINESS
US energy independence race producing tons of oil, not so much profit.
These are the most patriotic brands in the US, consumer report reveals.
Presidential salaries, from George Washington to Donald Trump.
---