Milo Yiannopoulos has a LOT of "Super Fans" but no one else Grabs Life by the Grapefruit and Squeezes quite as good as Michah: one such fan.
On a recent dare, Milo informed Michah he would let him regain his Admin rights (if he completed a dare) back to Milo's "Fag Chat" the room that up until now has been a pay only chat room, with changing names.
For example, Milo has mocked a church, mocked Antifa, mocked a school, and currently, Milo sits as "Judge Milo" the current link at the time of this article is: https://t.me/joinchat/LHoLt1A8PXVPq2ml9_qNyA remember in his court it is NOT a Democracy.
Recently Milo has complained a lot about the lack of book sales, etc, etc and the worries of putting food on the table for him and his wonderful husband as pictured below (not really)
I will be honest I myself have been caught up in the drama of the world of Milo, I even paid $13 to be "unsilenced," yes Milo has found a way to make money off this chat, fees levied on those that disobey. Yes, Milo will "silence" you, the same Milo, who is the master of being banned from everything which I find kind of ironic to be "silenced" by one that complains how everyone silences him. If I might add Milo has even set up a system where people can pay to have others banned and then reinstated, and that is not even all! Just ask anyone in chat about the "rules" especially #ShariaTuesdays where women are NOT allowed to talk. It can be frustrating for some, but in Milo's Kingdom, he likes to keep it fresh.
I have even allowed myself to get very emotional about his rejection of my work, and my silencing. So, I have put that energy into a weekly show covering some of the highs and very very very lows of Milo's chat.
This week started out normal as there was a Mock Funeral for Michah, but within 12 hours Michah was made whole again in at least zombie form… which led towards an even fruitier and more citrus path for dear Michah the budding fruitiphile. (I am sure there is a much better not made up name)
For you see in 2020 the land of complaining about Gays and Drag queens (just ask Lady Maga) being allowed in the "Conservative" movement because they are something other than "traditional conservative" is a LARGE issue for many in the "conservative" movement. This is something I personally believe that is holding back the Republicans and our #GaysForTrump movement, in general, the embracing of diversity in the party which may just include getting OK with embracing identity politics. If only to prove to others that they too do not have to be trapped on the left and can #GoRight breaking the "Traditional mold" and ensuring future victories for Life, Liberty, and the Pursuit of Happiness.
Though we have to warn you that there is such a thing as extremism that we do have to worry about… my question, does Sex With Fruit belong in Conservative America?
Who knows, I know this for sure.. people might call me fruit but I sure as hell am not having sex with one!
To each his own Michah for I hope you do get that piece of American Pie!
Also, Remember, Milo is NOT OK! All Right?!
Below is this week's episode of Milo is Not OK! All Right?!
Milo Is Not OK! All Right?! Episode 1
Fighting the Culture War One Grapefruit at a Time
Michah Screws a Grapefruit!
I told you Milo was NOT All Right…
Warning Contents are UNCENSORED
Strong Language and some weird situations… not for all ages
#MiloIsNotOk #MiloIsNotAllRight #CultureWar
Fighting the Culture War One Grapefruit at a Time – Milo Is Not OK (All Right) Episode 1
The Opinions Expressed in These News Stories, do not always represent the views of the Full Staff, and the Movements and Charities We Endorse.
We Fully Believe that Together All Parties and People Can Make America (and the World) Great Always (For Everyone)
Follow @PeterBoykin on
TeleGram: T.ME/RealPeterBoykin
Facebook: Facebook.com/PeterRobertBoykin
YouTube: YouTube.com/c/PeterBoykin
Instagram: instagram.com/peterboykin/
Reddit: reddit.com/user/peterboykin
Visit Our Network of News Pages:
Join #TheMagaNetwork
Support These Great Charities and Movements
GoRight.US #GoRight
Related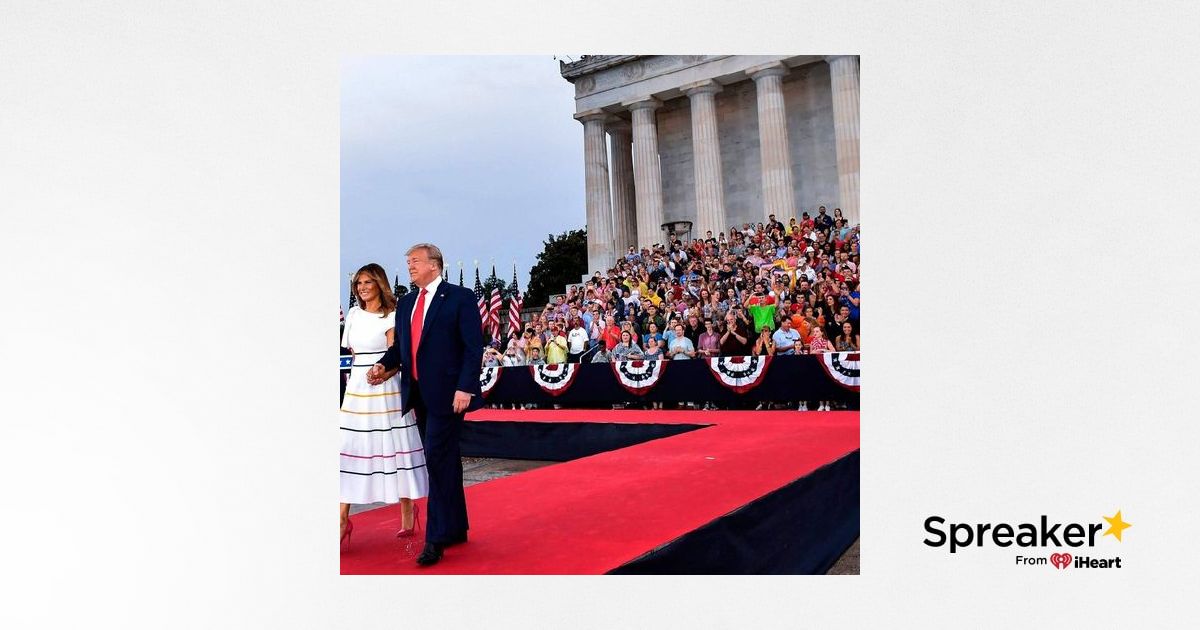 Trump saluted America in A #MAGA July 4 event, despite critics, What Do you Think About His Speech?
Trump salutes America in elaborate July 4 event, despite critics — and a downpour of rain
Despite concerns that he would use the Fourth of July event as a glorified campaign rally, President Trump used his "Salute to America" speech Thursday evening to praise the men and women of the armed forces and American exceptionalism. With the Lincoln Memorial as a backdrop and flanked by camouflaged … See More Bradley fighting vehicles, Trump stuck mainly to the script during his speech – praising the spirit that "runs through the veins of every American patriot" and attempting to strike a more unifying and conciliatory tone than he is generally known to take.
While Trump's speech set a unifying tone, the lead-up to the event was far from harmonious – with Trump's opponents,especially 2020 Democratic presidential candidates, slamming him on everything from the cost of the event to the perceived exploitation of the holiday for a political purpose. Two outside groups, the National Parks Conservation Foundation and Democracy Forward, want the Interior Department's internal watchdog to investigate what they say may be a "potentially unlawful decision to divert" national parks money to Trump's "spectacle."
White House seeking all options on citizenship question for 2020 census
President Trump on Thursday doubled down on his push for a citizenship question on the 2020 Census, promising that his administration is "working very hard" on the controversial issue — as reports say he is mulling using an executive order to get the question on the census. "So important for our Country that the very simple and basic 'Are you a Citizen of the United States?' question be allowed to be asked in the 2020 Census," he tweeted. He added that the Commerce and Justice departments were "working very hard on this, even on the 4th of July!" Earlier this week, Commerce Secretary Wilbur Ross announced that his department was going ahead with the printing of the census without the citizenship question, apparently indicating that the administration had dropped the controversial issue. That decision came after a Supreme Court ruling last week that blocked the citizenship question for the time being until more reasoning from the administration was provided.
Ocasio-Cortez calls border officials liars after new report on offensive Facebook posts
In a Twitter message Thursday, Rep. Alexandria Ocasio-Cortez, D-N.Y., branded the leadership of U.S. Customs and Border Protection as liars after a news site reported that CBP officials knew much longer than they claimed about a Facebook group on which some past and current CBP employees had posted offensive material. Ocasio-Cortez was the subject of some of this material. ProPublica, a self-described non-profit news group, reportedly has obtained screenshots of doctored images of Ocasio-Cortez, including one that shows a smiling PresidentTrump forcing her head toward his crotch.
According to Politico, top CBP officials had known about offensive posts "for up to three years" – even though officials claimed this week that they had only recently learned about them. "Looks like CBP lied," Ocasio-Cortez charged Thursday, one day after the Politico story appeared. "Reporting shows they knew about it for *years.* This is a big deal."
Ted Cruz schools Kaepernick, adds 'context' after ex-NFL star quotes Frederick Douglass 'Fourth of July' speech
Sen. Ted Cruz responded Thursday night after former NFL quarterback Colin Kaepernickposted a passage earlier on the Fourth of July from a famous speech by Civil War-era abolitionist Frederick Douglass. The passage Kaepernick cites is from Douglass' speech, "What to the Slave is the Fourth of July?" Douglass delivered to the speech at a meeting of the Rochester Ladies' Anti-Slavery Society in Rochester, N.Y., on July 5, 1852 – nearly nine years before the Civil War began.
Kaepernick posted the following portion, without adding any comments: "What have I, or those I represent, to do with your national independence? This Fourth of July is yours, not mine…There is not a nation on the earth guilty of practices more shocking andbloody than are the people of these United States at this very hour." "You quote a mighty and historic speech by the great abolitionist Frederick Douglass," Sen. Cruz writes in response, "but, without context, many modern readers will misunderstand."
Closely watched June jobs report to be released Friday
Wall Street will be closely watching Friday's release of the June jobs report, which could provide insight into whether the Federal Reserve will cut interest rates at its July meeting. As the U.S. enters the longest economic expansion on record, investors are looking at the Department of Labor's monthly payroll and unemployment data for signs that the rapid job growth over the past two years is softening and lending way to an overall growth slowdown.
TODAY'S MUST-READS
Las Vegas shooting victim's parents sue gunmaker over daughter's death.
Trump donor among seven Americans killed in copter crash in Bahamas.
Meghan McCain 'in talkso r' teturn to 'The View,' but 'some things need to change': report.
MINDING YOUR BUSINESS
US energy independence race producing tons of oil, not so much profit.
These are the most patriotic brands in the US, consumer report reveals.
Presidential salaries, from George Washington to Donald Trump.
---