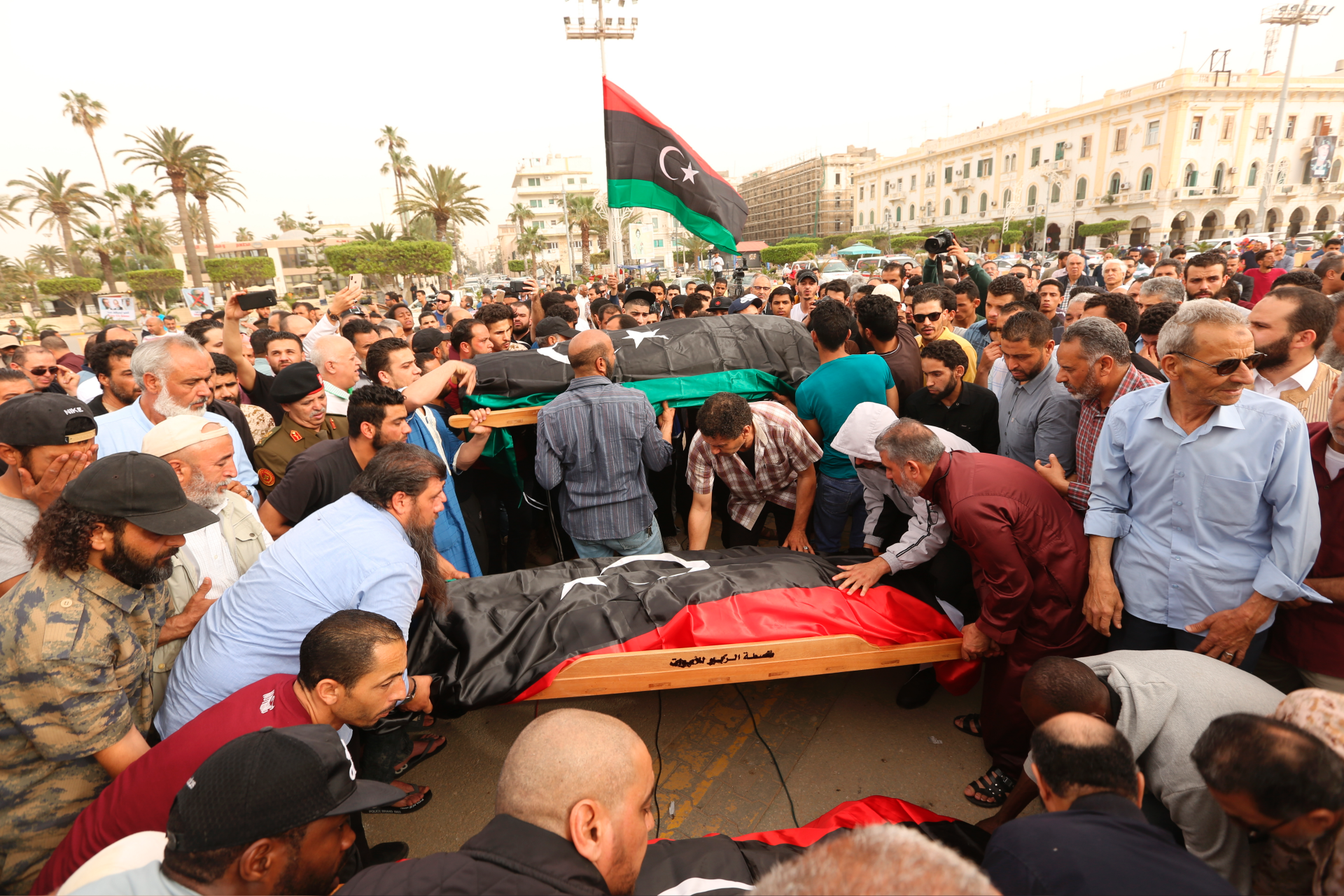 UNITED NATIONS – Libya's U.N.-supported government is asking the Security Council to appoint a "fact-finding mission" to investigate alleged violations by the forces attacking the capital.
Ambassador Elmahdi Elmajerbi said in an April 18 letter to the council president circulated Thursday that the violations include "the killing and displacement of civilian citizens, the destruction of public and private properties, the recruitment of children and involving them in wars and hostilities."
It also cited "targeting the civilian neighborhoods and populated areas and exposing them to heavy artillery and Grad missiles."
Forces loyal to Field Marshal Khalifa Hifter launched an offensive in Tripoli earlier this month, and are battling militias loosely allied with the U.N.-supported government.
The U.N. health agency says the fighting has killed more than 270 people, including civilians, and wounded nearly 1,300.
Source: Fox News World
North Korea employs a fleet of ghost ships sailing around the globe to evade sanctions and buy and sell goods such as coal and oil, according to an in-depth report.
The Washington Post published a lengthy look Wednesday evening about North Korea's actions, which involve meeting other ships in the middle of the ocean to transfer cargo, carrying and transmitting false ship identification numbers, and conducting backroom deals.
"It's anarchy," Hugh Griffiths, the outgoing coordinator of United Nations sanctions monitors, told the Post. "These massive gaps in maritime and financial governance will provide Chairman Kim [Jong Un] with an economic lifeline for months, if not years, to come."
North Korea has resorted to the illicit actions because sanctions from the UN and the United States have crippled its ability to conduct international trade. Kim will meet with Russian President Vladimir Putin on Thursday.
The Post report provided several examples of how Kim's regime gets around sanctions. In many cases, ships that do business with North Korean ships are registered in countries that do not conduct full oversight, such as Panama, Togo, and Dominica — called a "flag of convenience," according to the Post.
The UN monitors work near the UN headquarters in New York City and keep tabs on North Korean ships via photos and satellite images.
Source: NewsMax Politics
Migrants are seen at the Anti-Illegal Immigration Agency in Tajora shelter center in Tripoli, Libya April 24,2019. REUTERS/Ahmed Jadallah
April 24, 2019
By Ahmed Elumami
TRIPOLI (Reuters) – Libyan officials have opened the doors of a detention center for illegal migrants in Tripoli, but frightened Somalis and other sub-Saharan Africans told Reuters they had decided to stay for fear of getting caught up in fighting engulfing the capital.
"We don't want to leave…we have no place to go," said a 20-year old migrant who gave his name as Daoud, sitting on a mattress in a warehouse where 550 migrants have been held. His pregnant wife sits in a different room.
More than 3,600 jailed migrants have been trapped in the capital since forces from the east of the country started an advance to capture it, the United Nations says.
On Tuesday, some 12 migrants were wounded when unknown gunmen opened fire on them in a detention center in a suburb fought over by both sides, a spokesman for the U.N. refugee agency UNHCR said. Details remain unclear. The injured migrants are being treated in a hospital. Amnesty International called for the incident to be investigated as a war crime.
In the quieter eastern Tajoura suburb, the manager opened the gate of his detention center housing migrants from sub-Saharan countries such as Eritrea, Somalia, South Sudan and some Arab countries. Everyone stayed, surviving on one meal of pasta a day. On good day they get two.
Large parts of Libya have been lawless since the overthrow of Muammar Gaddafi in 2011, and the country has become the main transit point for hundreds of thousands of migrants from sub-Saharan Africa and the Middle East attempting the dangerous voyage across the Mediterranean Sea to Europe.
Officials have been accused in the past of mistreating detainees who are held by the thousands as part of European-backed efforts to curb smuggling.
At the Tajoura detention center, authorities have not supplied any food or water since before fighting started last week, said Nour Eldine Qarilti, the director.
"We have not received any assistance from all international organizations," he told Reuters. "Some local NGOs still support us with simple needs but it's not enough."
Hundreds of migrants lay on mattresses. Others were using a kitchen to cook lunch for others for a small fee.
According the United Nations, Libya is now hosting more than 700,000 people who have fled their homelands, often trekking through desert in pursuit of their dream of crossing to a better life in Europe.
They then try find smugglers to put them on boats. But with Italy and France helping to beef up the Libyan Coast Guard, most now get caught before reaching Europe.
(Writing by Ahmed Elumami and Ulf Laessing; Editing by Peter Graff)
Source: OANN
An artisanal gold miner holds a gold nugget at an unlicensed mine in Gaoua, Burkina Faso, February 13, 2018. Picture taken February 13, 2018. REUTERS/Luc Gnago
April 24, 2019
By Ryan McNeill and Zandi Shabalaba David Lewis
NAIROBI (Reuters) – Billions of dollars' worth of gold is being smuggled out of Africa every year through the United Arab Emirates in the Middle East – a gateway to markets in Europe, the United States and beyond – a Reuters analysis has found.
Customs data shows that the UAE imported $15.1 billion worth of gold from Africa in 2016, more than any other country and up from $1.3 billion in 2006. The total weight was 446 tonnes, in varying degrees of purity – up from 67 tonnes in 2006.
Much of the gold was not recorded in the exports of African states. Five trade economists interviewed by Reuters said this indicates large amounts of gold are leaving Africa with no taxes being paid to the states that produce them.
Previous reports and studies have highlighted the black-market trade in gold mined by people, including children, who have no ties to big business, and dig or pan for it with little official oversight. No-one can put an exact figure on the total value that is leaving Africa. But the Reuters analysis gives an estimate of the scale.
Reuters assessed the volume of the illicit trade by comparing total imports into the UAE with the exports declared by African states. Industrial mining firms in Africa told Reuters they did not send their gold to the UAE – indicating that its gold imports from Africa come from other, informal sources.
Informal methods of gold production, known in the industry as "artisanal" or small-scale mining, are growing globally. They have provided a livelihood to millions of Africans and help some make more money than they could dream of from traditional trades. But the methods leak chemicals into rocks, soil and rivers. And African governments such as Ghana, Tanzania and Zambia complain that gold is now being illegally produced and smuggled out of their countries on a vast scale, sometimes by criminal operations, and often at a high human and environmental cost.
Artisanal mining began as small-time ventures. But the "romantic" era of individual mining has given way to "large-scale and dangerous" operations run by foreign-controlled criminal syndicates, Ghana's President Nana Akufo-Addo told a mining conference in February. Ghana is Africa's second-largest gold producer.
Not everyone in the chain is breaking the law. Miners, some of them working legally, typically sell the gold to middlemen. The middlemen either fly the gold out directly or trade it across Africa's porous borders, obscuring its origins before couriers carry it out of the continent, often in hand luggage.
For example, Democratic Republic of Congo (DRC) is a major gold producer but one whose official exports amount to a fraction of its estimated production: Most is smuggled into neighboring Uganda and Rwanda. "It is of course worrisome for us but we have very little leverage to stop it," said Thierry Boliki, director of the CEEC, the Congolese government body that is meant to register, value and tax high-value minerals like gold.
The customs data provided by governments to Comtrade, a United Nations database, shows the UAE has been a prime destination for gold from many African states for some years. In 2015, China – the world's biggest gold consumer – imported more gold from Africa than the UAE. But during 2016, the latest year for which data is available, the UAE imported almost double the value taken by China. With African gold imports worth $8.5 billion that year, China came a distant second. Switzerland, the world's gold refining hub, came third with $7.5 billion worth.
Most of the gold is traded in Dubai, home to the UAE's gold industry.
The UAE reported gold imports from 46 African countries for 2016. Of those countries, 25 did not provide Comtrade with data on their gold exports to the UAE. But the UAE said it had imported a total of $7.4 billion worth of gold from them.
In addition, the UAE imported much more gold from most of the other 21 countries than those countries said they had exported. In all, it said it imported gold worth $3.9 billion – about 67 tonnes – more than those countries said they sent out.
"There is a lot of gold leaving Africa without being captured in our records," said Frank Mugyenyi, a senior adviser on industrial development at the African Union who set up the organization's minerals unit. "UAE is cashing in on the unregulated environment in Africa."
The Dubai Customs Authority referred Reuters' queries to the UAE foreign ministry, which did not respond. The UAE government media office referred Reuters to the UAE federal customs authority, which also did not respond.
Not all the discrepancies in the data analyzed by Reuters necessarily point to African-mined gold being smuggled out through the UAE. Small differences could result from shipping costs and taxes being declared differently, a time-lag between a cargo leaving and arriving, or simply mistakes. And gold analysts say some of the trade, especially from Egypt and Libya, could include gold that has been recycled.
But in 11 cases, the per-kilo value that the UAE declared importing is significantly higher than that recorded by the exporting country. This, said Leonce Ndikumana, an economist who has studied capital flows in Africa, is a "classic case of export under-invoicing" to reduce taxes.
Matthew Salomon, an American economist who has researched the use of trade statistics to identify illicit financial flows, said the issue deserves scrutiny. "Persistent discrepancies in the trade of particular goods and between particular countries … can identify significant risks of illicit activity," he said.
POLLUTION, CONFLICT AND BANDITS
Over the past decade, high demand for gold has made it attractive for informal miners to use digging equipment and toxic chemicals to boost the yield. Contaminated water is returned to rivers, slowly poisoning the people who need the water to live.
Small-scale miners have long used mercury – easy to buy at around $10 for a thumb-sized vial – to extract flecks of gold from ore, before sluicing it away. Mercury's toxic effects include damage to kidneys, heart, liver, spleen and lungs, and neurological disorders, such as tremors and muscle weakness. Cyanide and nitric acid are also being used in the process, according to researchers and miners in Ghana.
Industrial mining companies have also been responsible for pollution, ranging from cyanide spills to respiratory problems linked to dust produced by mining operations. But almost a dozen states including DRC, Uganda, Chad, Niger, Ghana, Tanzania, Zimbabwe, Malawi, Burkina Faso, Mali and Sudan have complained in the past year about the harms of unauthorized mining.
Burkina Faso has banned small-scale mining in some areas where al Qaeda-linked Islamists are active, and earlier this month Nigeria's government suspended mining in the restive northwestern state of Zamfara, saying intelligence reports established what it called "a strong and glaring nexus" between the activities of armed bandits and illicit miners.
Strong prices have fueled the boom. Today, gold trades at over $40,000 per kilo, which is below a peak from 2012 but still four times the level of two decades ago.
Western investors want gold so they can diversify their portfolios; India and China want it for jewelry. But most Western companies – and the banks that finance them – avoid handling non-industrial African gold directly. They are unwilling to risk using metal that may have been mined to fund conflict or that may have involved human rights abuses in, for instance, DRC or Sudan. Various Uganda-based traders have been sanctioned for handling gold smuggled out of DRC.
DESTINATION DUBAI
In other states, including the UAE, these concerns have been less of a problem. Over the last decade, gold from Africa has become increasingly important for Dubai. From 2006 to 2016, the share of African gold in UAE's reported gold imports increased from 18 percent to nearly 50 percent, Comtrade data showed.
The UAE's main commodity marketplace, the Dubai Multi-Commodities Centre (DMCC), calls itself on its website "your gateway to global trade." Trading in gold accounts for nearly one-fifth of UAE's GDP.
However, no big industrial companies reached by Reuters – including AngloGold Ashanti, Sibanye-Stillwater and Gold Fields – say they send gold there. Reuters contacted 23 mining companies with African operations, the smallest of which produced around 2.5 tonnes in 2018: 21 of them said they did not send metal to Dubai for refining, the other two did not respond.
While the big South African miners have local refining capacity, the main reason others gave is that no UAE refineries are accredited by the London Bullion Market Association (LBMA), the standard-setter for the industry in Western markets.
The LBMA is "not comfortable dealing with the region" because of concerns about weaknesses in customs, cash transactions and hand-carried gold, its chief technical officer Neil Harby told Reuters. Investigators and people in the gold industry say the ease with which smugglers can carry gold in their hand-luggage on planes leaving Africa helps gold flow out unrecorded. And limited regulation in UAE means informally mined gold can be legally imported, tax-free.
Gold can be imported to Dubai with little documentation, African traders told Reuters.
A DMCC spokesman said it has a robust regulatory framework that includes strict responsible sourcing rules. These are aligned with the international benchmark for responsible sourcing laid out by the Organisation for Economic Cooperation and Development (OECD).
Sanjeev Dutta, head of commodities at DMCC, said in January that the center is building strategic relationships with most gold-producing countries on the African continent, "and we are very confident of how that production is done and how responsible" it is. Over the past 12 months, he said, DMCC has firmed up a standard for refineries, called Dubai Good Delivery, which he said is very strict on responsible sourcing and sustainability. "We track right from responsible sourcing to sustainable development, things like human rights etc.," he said. "We demand export certificates."
A "very limited" number of refineries accept gold that has been imported as hand luggage, Dutta said, but gave no figures.
GOLD TO GO
Some African miners are swapping their pickaxes and shovels for diggers and crushers – increasing production volumes exponentially. Regulation remains scant, and accidents are frequent. In one week this February, three accidents at illegal mining operations in Zimbabwe, Guinea and Liberia claimed the lives of more than 100 people.
Often, miners must surrender a cut of their output, as commission, to the people who control a pit, let out the equipment, or buy and sell the gold. NGOs such as Global Witness and Human Rights Watch have documented child labor, corruption and links to conflict at some of these mines. At one mine in Zimbabwe visited by Reuters, people said they had to hand over some of their find before they would even be allowed out of the pit.
Reuters presented its analysis to 14 African governments. Of them, five said it reflected an existing concern about gold being smuggled out of their countries that they are trying to address. One said they did not think gold smuggling was a problem for them. The rest declined to comment or did not respond.
Governments across Africa are trying to work out how to manage a sector that, whatever its risks, provides a livelihood for many of their citizens, and which could be harnessed as a source of revenues.
Some, including Ivory Coast, are taking gradual steps to regulate their informal mining operations. Ghana and Zambia have sent security forces into mining areas to halt operations so miners can be registered and regulations put in place. Ghana, concerned that a rush of mainly Chinese-led ventures is harming the environment, has arrested hundreds of Chinese miners and expelled thousands in the past six years.
At the end of last month, Ghana temporarily banned the import of excavator equipment to try to stem a surge in illegal mining using heavy machinery.
In Sudan, one of the continent's biggest producers, the government has unveiled a $3 billion plan for private banks to work with the central bank to buy gold from small-scale miners, offering prices that would make it less attractive to sell on the black market.
A Tanzanian parliamentary report estimated that 90 percent of annual production of informally mined gold is smuggled out of the country: The government wants the central bank to buy this up. In March, President John Magufuli launched a plan to establish hubs where the trade would be formalized by offering access to financing and regulated markets.
In Burkina Faso, Oumarou Idani, minister of mines, believes his country is leaking gold to UAE on a massive scale. Of the 9.5 tonnes of gold the government estimates informal miners dig up each year, just 200 to 400 kg are declared to the authorities, he said.
Much of the gold is smuggled from landlocked Burkina Faso to its Atlantic coast neighbor Togo, according to the minister. In Togo, virtually no taxes are imposed on gold.
Togo's director of mining development and controls, Nestor Kossi Adjehoun, said informal mining is "an area that we have not properly figured out." For now, he said, Togo saw no reason to suspect gold was being smuggled through the country.
"I understand that Dubai is the destination for this gold," his Burkina Faso neighbor, Minister Idani, told Reuters in an interview last year. "But since (the trade) is fraudulent, I have no details."
(Additional reporting by John Ndiso in Nairobi, Tim Cocks in Ouagadougou, Ed McAllister in Dakar, Chris Mfula in Lusaka, Giulia Paravicini in Kinshasa, MacDonald Dzirutwe in Battlefields, Zimbabwe, John Zodzi in Lome, Fumbuka Ng'wanakilala in Dodoma, Maha El Dahan in Dubai, and Peter Hobson in London; Edited by Sara Ledwith, Alexandra Zavis and Richard Woods)
Source: OANN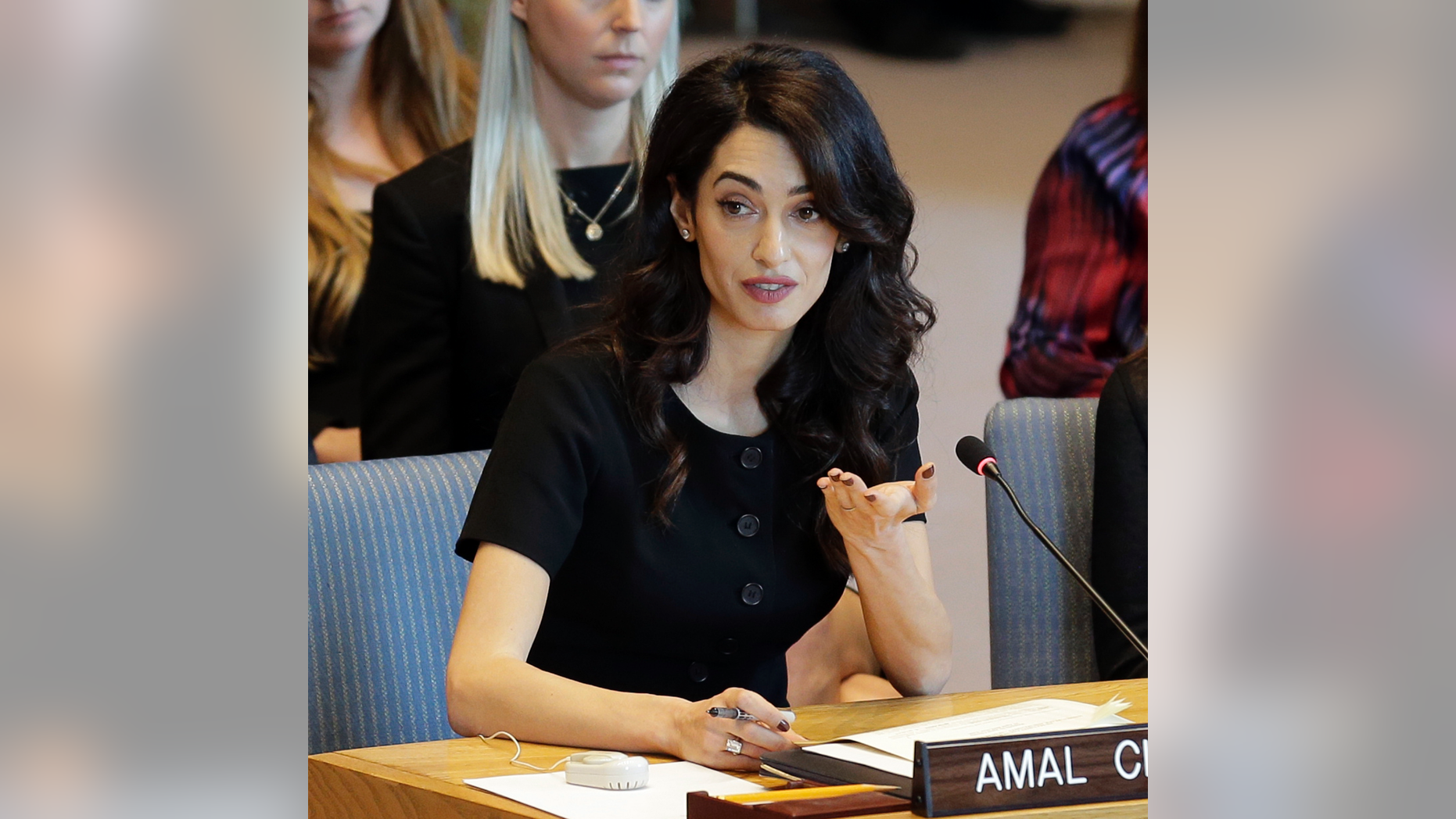 UNITED NATIONS – Human rights lawyer Amal Clooney says she is requesting the transfer of a female member of the Islamic State extremist group to face justice for crimes against women from Iraq's Yazidi minority and American hostage Kayla Mueller, who was killed in 2015.
Clooney represents Yazidi women and girls who were held in the house of Umm Sayyaf, the wife of Islamic State financier Abu Sayyaf. She said the Yazidis were raped by IS men and Mueller by IS leader Abu Bakr Al Baghdadi.
Clooney told the U.N. Security Council on Tuesday that Umm Sayyaf "locked them in a room, instigated their beatings and put makeup on them to 'prepare' them for rape."
She did not say where Umm Sayyaf is being held.
Source: Fox News World
The United Nations emblem is seen in the U.N. General Assembly hall during the 72nd United Nations General Assembly at U.N. headquarters in New York, U.S., September 22, 2017. REUTERS/Lucas Jackson
April 23, 2019
By Michelle Nichols
UNITED NATIONS (Reuters) – A U.S. threat to veto U.N. Security Council action on sexual violence in conflict was averted on Tuesday after a long-agreed phrase was removed because President Donald Trump's administration sees it as code for abortion, diplomats said.
A German-drafted resolution was adopted after a reference to the need for U.N. bodies and donors to give timely "sexual and reproductive health" assistance to survivors of sexual violence was cut to appease the United States.
"It is intolerable and incomprehensible that the Security Council is incapable of acknowledging that women and girls who suffered from sexual violence in conflict – and who obviously didn't choose to become pregnant – should have the right to terminate their pregnancy," French U.N. Ambassador Francois Delattre told the 15-member body after the vote.
The language promoting sexual and reproductive health is long-agreed internationally, including in resolutions adopted by the Security Council in 2009 and 2013 and several resolutions adopted annually by the 193-member General Assembly.
The text adopted on Tuesday simply reaffirms the council's commitment to the 2009 and 2013 resolutions. A reference to the work of the International Criminal Court in fighting the most serious crimes against women and girls was also watered-down to win over Washington, which is not a member of the institution.
Before the vote, acting U.S. Ambassador to the United Nations Jonathan Cohen told the Security Council: "None of us can turn our backs on this issue."
"It requires the engagement of all member states and of the United Nations to support the efforts of those fighting to protect women, provide accountability, and support survivors," he said.
RUSSIA, CHINA ABSTAIN
Thirteen council members voted in favor of the resolution, while Russia and China abstained over a number of concerns – including a German push for expanded U.N. monitoring of sexual violence in conflict – and even circulated their own rival draft text, which they did not put to a vote.
"Please do not even try to paint us as opponents of the fight against sexual violence in conflict. Our stance on this issue remains firm and unyielding, this scourge has to be eliminated," Russian U.N. Ambassador Vassily Nebenzia said.
The council voted after hearing briefings from Nobel Peace Prize winners Nadia Murad, an Iraqi Yazidi woman who was held as a sex slave by Islamic State militants, and Congolese doctor Denis Mukwege, who treats rape victims; Libyan rights activist Inas Miloud and international human rights lawyer Amal Clooney.
"Dark clouds are hanging over the chamber of the Security Council," South African U.N. Ambassador Jerry Matjila told reporters ahead of the vote, describing it as "a sad day."
The U.S. threat to veto the Security Council resolution was the latest in a string of moves made by Washington at the United Nations that some U.N. diplomats say has been driven by U.S. Vice President Mike Pence, a conservative Christian who staunchly opposes abortion rights.
Pence's office did not immediately respond to a request for comment. Cohen did not speak after the council vote.
Washington cut its funding in 2017 for the U.N. Population Fund because it "supports, or participates in the management of, a program of coercive abortion or involuntary sterilization." The United Nations said that was an inaccurate perception.
In 2018 Washington unsuccessfully tried to remove language on sexual and reproductive health from several General Assembly resolutions, then failed in a similar campaign last month during the annual U.N. Commission on the Status of Women meeting.
(Reporting by Michelle Nichols; Editing by Susan Thomas)
Source: OANN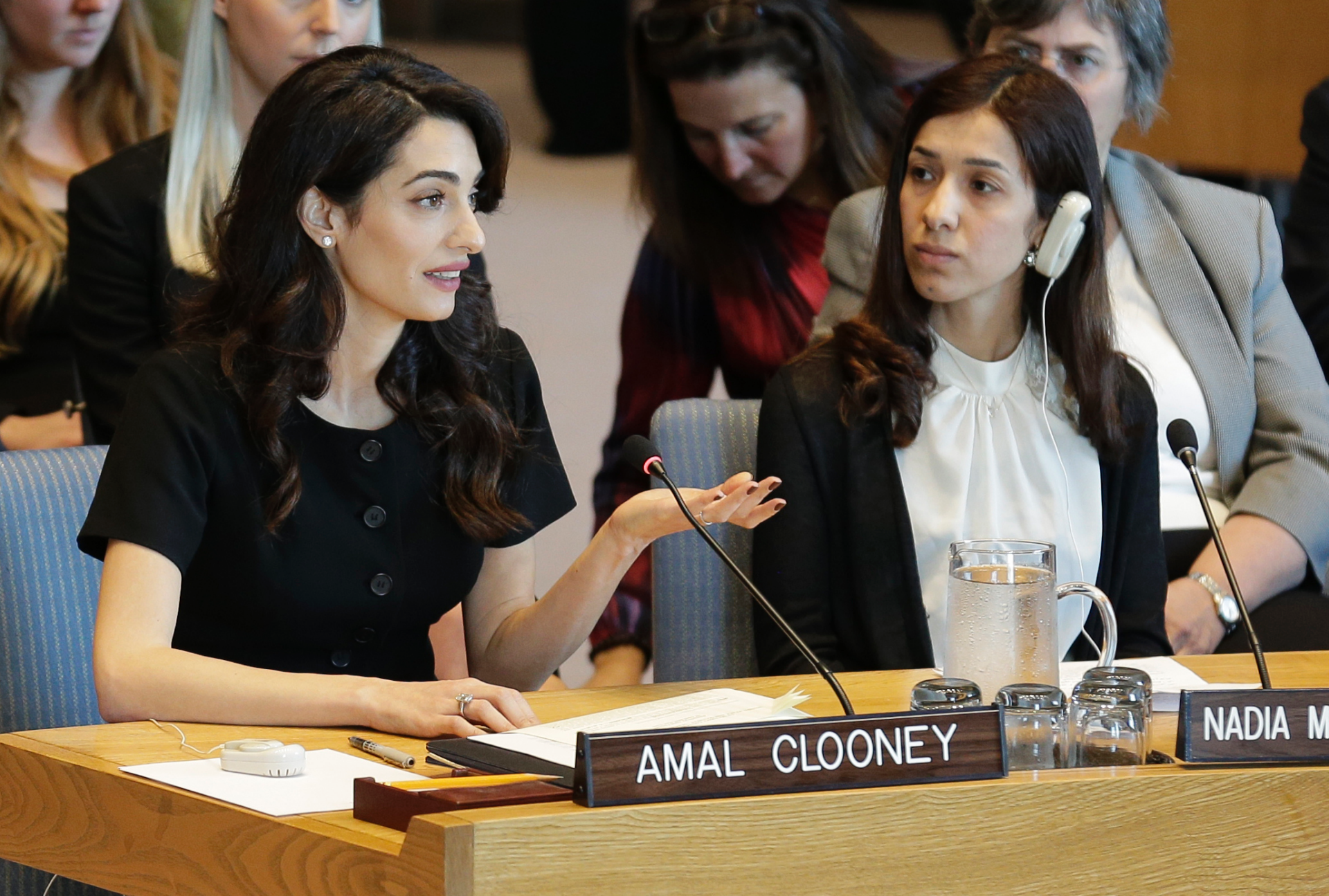 UNITED NATIONS – The U.N. Security Council has approved a watered-down resolution on combatting sexual violence in conflicts after eliminating language on providing "sexual and reproductive health care" to survivors of rape and abuse to get U.S. support.
Tuesday's vote on the German-drafted resolution was 13-0, with Russia and China, which had submitted a rival draft, abstaining.
The resolution expresses the council's deep concern at "the slow progress" in addressing and eliminating sexual violence in conflicts around the world. It says such acts often occur with impunity "and in some situations have become systematic and widespread, reaching appalling levels of brutality."
It urges strengthened access to justice for victims, but eliminated a positive reference to the International Criminal Court's work in prosecuting alleged perpetrators.
Source: Fox News World
FILE PHOTO: U.S. Vice President Mike Pence speaks to reporters outside the United Nations Security Council at U.N. headquarters in New York, U.S, April 10, 2019. REUTERS/Brendan McDermid
April 23, 2019
WASHINGTON (Reuters) – U.S. Vice President Mike Pence is set to visit southeast Michigan on Wednesday to make the case that the North American trade deal intended to replace NAFTA would boost the auto industry, industry officials said.
Pence will speak at an event with automakers and auto suppliers in Taylor, Michigan and is expected to tour a Ford Motor Co truck plant in Dearborn as the administration works to convince Congress to ratify the new trade deal, the United States-Mexico-Canada Agreement (USMCA).
The U.S. International Trade Commission (ITC) on Thursday estimated that under the deal U.S. auto industry employment would rise by 30,000 jobs for parts and engine production, but that the number of U.S. vehicle assembly jobs would decline. U.S. vehicle prices would rise up to 1.6 percent, causing consumption to fall by 140,000 units per year, or about 1.25 percent of 2017 sales, the report said.
The Trump administration and U.S. automakers, disputed the ITC report, saying instead that the new trade deal will create 76,000 automotive sector jobs within five years as automakers invest some $34 billion in new plants to comply with the pact's new regional content rules.
The White House did not immediately comment on Pence's trip.
(Reporting by David Shepardson)
Source: OANN
FILE PHOTO: Detained Reuters journalists Wa Lone and Kyaw Soe Oo arrive at Insein court in Yangon, Myanmar, Aug. 27, 2018. REUTERS/Ann Wang/File Photo
April 23, 2019
By Shoon Naing and Simon Lewis
NAYPYITAW (Reuters) – Myanmar's top court on Tuesday rejected the appeal of two Reuters reporters sentenced to seven years in jail for breaking the Official Secrets Act, in a landmark case that has raised questions about the country's transition to democracy.
"They were sentenced for seven years and this decision stands, and the appeal is rejected," Supreme Court Justice Soe Naing told the court in the capital, Naypyitaw, without elaborating.
Wa Lone, 33, and Kyaw Soe Oo, 29, have spent more than 16 months in detention since they were arrested in December 2017 while working on an investigation into the killing of 10 Rohingya Muslim men and boys.
Lawyers for the reporters had appealed to the Supreme Court citing lack of proof of a crime and evidence that the pair were set up by police. A policeman told a lower court last year that officers had planted secret documents on the two reporters.
A district court judge in Myanmar's largest city, Yangon, found the two journalists guilty under the Official Secrets Act last September and sentenced them to seven years in prison. The Yangon High Court rejected an earlier appeal in January.
"Wa Lone and Kyaw Soe Oo did not commit any crime, nor was there any proof that they did," Reuters Chief Counsel Gail Gove said in a statement on Tuesday.
"Instead, they were victims of a police set-up to silence their truthful reporting. We will continue to do all we can to free them as soon as possible."
A government spokesman did not answer calls seeking comment.
The reporters' imprisonment has sparked an outcry from press freedom advocates, Western diplomats, and world leaders, adding to pressure on Myanmar leader Aung San Suu Kyi, the Nobel laureate who took power in 2016 amid a transition to democracy from military rule.
The courtroom on Tuesday was crowded with diplomats and observers. After the verdict was announced, the head of the UN in Myanmar, Knut Ostby, said he was disappointed.
"The United Nations will continue to call for full respect of freedom of the press and human rights," he said in a statement. "Wa Lone and Kyaw Soe Oo should be allowed to return to their families and continue their work as journalists."
The investigation that the journalists were working on, which uncovered security forces' involvement in killings, arson and looting, was completed by colleagues and published in 2018. Last week it was awarded the Pulitzer prize for international reporting.
U.N. investigators have called for high-ranking military officials to be prosecuted for crimes against humanity and genocide over a 2017 crackdown on the Rohingya in response to militant attacks in the western part of the country.
Both Wa Lone and Kyaw Soe Oo are being held at Yangon's Insein prison and were not present to hear the Supreme Court verdict.
Their wives, who had traveled from Yangon to hear the verdict on Tuesday, emerged from the courtroom quietly wiping away tears.
Panei Mon, Wa Lone's wife, who gave birth to their first child last year, said she had been "hoping for the best".
"Our husbands are good people," she said. "We want them to be released as soon as possible."
(Reporting by Shoon Naing and Simon Lewis; Editing by Neil Fullick)
Source: OANN
A member of the Libyan internationally recognised government inspects a damaged military vehicle during the fighting with the Eastern forces in Ain Zara, in Tripoli, Libya April 21, 2019. REUTERS/Ahmed Jadallah
April 22, 2019
By Ayman al-Warfalli and Ulf Laessing
BENGHAZI, Libya/TRIPOLI (Reuters) – Eastern Libyan forces said on Monday they would intensify an assault on Tripoli, the capital in the west of the country that is held by the internationally recognized government, as the death toll in a battle now in its third week rose to 254.
The Libyan National Army (LNA) force loyal to commander Khalifa Haftar allied to a parallel government in the east has launched an offensive but has been unable to breach the southern defenses of the city.
Forces loyal to Tripoli drove back the LNA in recent days the southern suburb of Ain Zara, the main scene of fighting, Reuters reporters visiting the area said, even though the LNA said it had launched air strikes on military sites in the capital.
LNA spokesman Ahmed Mismari denied there had been a retreat but said an advance by his forces had slowed because of the dense population in the areas where fighting was taking place.
He told reporters the LNA was calling in reservists to open new fronts on Tripoli and said his army would use artillery and infantry in the next days. He gave no details.
Monday was quieter on the main frontline south of the capital with less shelling than in previous days, residents said. Bad weather made air strikes impossible, Mismari said.
Shelling could be still be heard even in central Tripoli 11 km (7 miles) from the frontline and smoke billowed from one spot in southern Tripoli, a Reuters reporter said.
The death toll since the start of fighting has reached 254, while 1,228 people have been wounded, the World Health Organization said. More than 32,000 people have been displaced, the U.N. humanitarian agency added.
The latest flare-up in Libya, which has been mired in chaos since dictator Muammar Gaddafi was toppled in 2011, threatens to disrupt oil flows, foment migration across the Mediterranean Sea to Europe and allow jihadists to exploit the power vacuum.
If a ceasefire was called as demanded by the United Nations, the LNA would have gained a considerable amount of territory, as they still control much of the area south of Tripoli including a forward base in Gharyan, a mountainous town about 80 km (50 miles) south of Tripoli.
Fighting over Tripoli has spiked since the White House said President Donald Trump spoke to Haftar on Monday.
The disclosure of the call and a U.S. statement that it "recognized Field Marshal Haftar's significant role in fighting terrorism and securing Libya's oil resources" has boosted the commander's supporters and enraged his opponents.
(Writing by Ulf Laessing; Editing by Edmund Blair)
Source: OANN
---