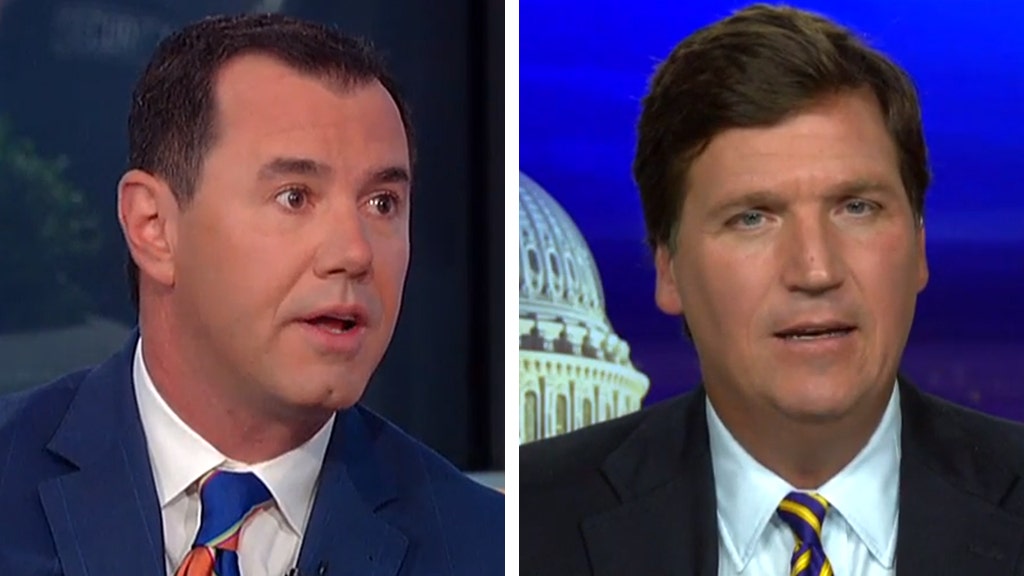 The new catchphrase in the mainstream media this week is "cover-up," and it comes from the mouths of Democratic lawmakers, according to Joe Concha.
Concha made the claim Wednesday on "Tucker Carlson Tonight," comparing the term to other phrases used by the media that appear to come from the Democratic Party.
TRUMP WALKOUT OF DEM INFRASTRUCTURE MEETING SEEMED 'PLANNED,' MOLLIE HEMINGWAY SAYS
"I think you're seeing a pattern here," Concha, The Hill media reporter, said. "Back in January, the term 'manufactured crisis' was used to talk about what was going on at the U.S. southern border."
He said after the phrase was used by top Democrats, it was repeated in the media "dozens upon dozens of times."
"It just seems to be that people are taking their cues from one party in this business and not the other, particularly from Pelosi."
Concha added the repetition came, "not just from one network, but different networks, different anchors, or pundits, or guests."
Concha pointed to a study by the Media Research Center that recorded the term "constitutional crisis" being uttered by the press 386 times.
"And now, here we are with 'cover-up' and that will be the next new 'constitutional crisis' as far as terms that we hear over and over again as if its an echo chamber."
Source: Fox News Politics
FILE PHOTO: Nov 20, 2016; Homestead, FL, USA; NASCAR Sprint Cup Series driver Tony Stewart (14) before the Ford Ecoboost 400 at Homestead-Miami Speedway. Mandatory Credit: Jasen Vinlove-USA TODAY Sports
May 23, 2019
Three-time NASCAR season champion Tony Stewart was elected to the 2020 NASCAR Hall of Fame on Wednesday that also includes team owner Joe Gibbs, who joined a second sport's Hall of Fame.
Gibbs already was a member of the Pro Football Hall of Fame for leading the Washington Redskins to three Super Bowl championships.
Also voted into the NASCAR Hall of Fame class of 2020 were drivers Bobby Labonte and Buddy Baker as well as crew chief and engine builder Waddell Wilson.
For Stewart, getting in with his old boss Gibbs, teammate Labonte, team member Wilson and even acquaintance Baker just added to the thrill.
"To me, it's even way bigger than us getting in — the fact that the guy that really was responsible for getting me to Joe Gibbs Racing was Bobby Labonte," said Stewart. "And getting Coach (Gibbs) in as well. And even before that, there was Waddell Wilson, who was with Harry Ranier in 1996 when I started with Ranier-Walsh Racing.
"The four of us going in at the same time … there's personal ties to all three of those guys, and even Buddy Baker. When I went through the Buck Baker School, Buddy actually was there one day and watched me run the car. It's just really cool how the four guys that are going in with me, I have a connection with at early parts of my career."
Labonte won the 2000 Winston Cup, then the name of NASCAR's top series, while driving for Joe Gibbs Racing (JGR). Stewart won the 2002 Winston Cup title for JGR, then repeated the feat in 2005, when the top series was called the Nextel Cup.
Stewart, 48, also captured the 2011 Sprint Cup while driving for his own Stewart-Haas Racing team. In all, Stewart won 49 race in NASCAR's top circuit, 14th all time.
"Tony was a lock," said four-time Cup Series champion Jeff Gordon, who was inducted into the Hall's 2019 class. "So, I'm not really surprised about that."
Gibbs and JGR claimed another championship, the 2015 Sprint Cup, with driver Kyle Busch.
Gibbs, 78, has overseen three Daytona 500 champions: Dale Jarrett in 1993 and Denny Hamlin in 2016 and 2019. He's the third winningest owner in Cup history with 164.
"This couldn't be any better for me, to get a chance to go in with those two guys," Gibbs said of Stewart and Labonte. "So I think we'll have fun. I think it'll be a great time for us, and I'm thrilled that I can ride their coattails here."
Labonte, 55, was a 21-time winner in the top series. He had to wait a bit to get into the Hall, as this was his third year on the ballot.
"I didn't want to watch the broadcast (of the announcement), because I didn't know if it was going to happen — a lot of emotions, I guess you'd say," Labonte told reporters. "After a couple years it was like, 'Maybe I won't get in.' So you think about it, and then you don't want to think about it.
"Whenever it comes down to today, and you see who is inducted into it, you think, 'Man, what an awesome day and feeling for everybody that got voted in.' As far as Joe and Tony and myself, I'm just so thankful to be in with them. It just really is an honor."
Baker, who died in 2015, won the 1980 Daytona 500 among 19 victories in the leading series. His father was NASCAR Hall of Fame driver Buck Baker.
Wilson, 82, built engines or served as a crew chief for Buddy Baker, Mario Andretti, Cale Yarborough, A.J. Foyt, Junior Johnson and Bobby Allison, among others.
The five honorees were selected from a list of 20 nominees. Stewart was named on 88 percent of the 59 ballots, while Gibbs got 72 percent, Wilson 72 percent, Baker 70 percent and Labonte 67 percent.
Edsel Ford II was selected as the Landmark Award winner. He was Ford Motor Company president and chief operating officer from 1991-98 and was also a director of International Speedway Corporation — a public company controlled by NASCAR's France family — from 2007 through 2015.
"It means a great deal to me," Ford said. "I'm honored to be given this award and I feel I have an ambassadorial role within Ford Motor Company and NASCAR, so it's wonderful. I'm truly honored."
The Hall of Fame induction ceremony is scheduled for Jan. 31, 2020, in Charlotte, N.C.
–Field Level Media
Source: OANN
Michigan Democrat Rep. Rashida Tlaib told Treasury Secretary Steven Mnuchin at a testy hearing on Wednesday that he should seek "personal" legal advice, effectively issuing a thinly veiled threat following his refusal to turn President Trump's personal tax information over to Congress.
"I would be remiss, as somebody that truly believes in the rule of law, as somebody that has practiced law and is an attorney, I would advise you, secretary, to get personal legal advice," Tlaib said, smirking slightly. "The cover-up by this administration, it goes beyond just providing the taxes.
"You can consult the Department of Justice but you, personally, making decisions – not on the best part of the American people, but to cover up the occupant of the White House – I think you need to be very, very clear about what your role is and what your responsibility is to the American people," she continued.
Tlaib added: "So, secretary, please seek out legal advice, personally, of what your obligations are, because the Department of Justice is not protecting you, it's protecting the president."
House Speaker Nancy Pelosi echoed Tlaib's remarks, charging later Wednesday that the president was "engaged in a cover-up." Responding to Pelosi's claim in a fiery Rose Garden press conference, Trump said simply, "I don't do cover-ups," and called for an end to "phony investigations."
Trump added that he had walked out of a meeting with Pelosi and Senate Majority Leader Chuck Schumer, D-N.Y., and he asserted that pursuing infrastructure legislation would be impossible while he was still under aggressive investigation.
Mnuchin, for his part, testified he has no idea who wrote a confidential Internal Revenue Service legal memo that says that tax returns must be given to Congress unless the president asserts executive privilege.
DEM WANTS TRUMP OFFICIALS JAILED FOR NOT TURNING OVER TAX RETURNS
Appearing before the House Financial Services Committee, Mnuchin said he was not aware of the existence of the memo until reporters from The Washington Post asked about it.
Mnuchin said it was a draft document. He told the committee he believed he was following the law by refusing to turn over six years of Trump's tax returns, which have been requested by Ways and Means Committee Chairman Richard Neal, D-Mass.
Mnuchin said he expected the dispute to ultimately be decided by the courts.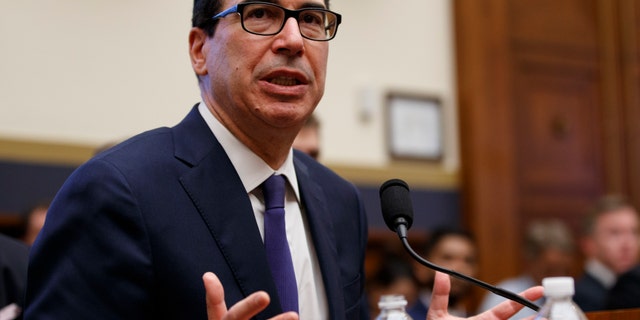 Mnuchin has refused to turn over the tax returns despite a 1924 law that gives the chairs of the tax-writing committees in Congress the power to request the returns of any taxpayer.
Mnuchin last Friday refused to obey a congressional subpoena to turn over the returns, saying the request "lacks a legitimate legislative purpose."
Mnuchin told lawmakers that he had not had any discussions on the issue with Trump, who has said repeatedly that he can't turn over his taxes because he is under IRS audit. Trump has not asserted executive privilege to protect the returns.
WHAT DID CONFIDENTIAL DRAFT IRS MEMO ON TRUMP TAX RETURNS SAY?
Neal has said he expects to bring a lawsuit to force the administration to comply with his subpoena.
When a number of Democrats pressed Mnuchin on the 1924 law, Mnuchin said that "weaponizing the IRS is a major concern of ours which affects taxpayers of both parties."
"So, Secretary, please seek out legal advice, personally, of what your obligations are."

— Michigan Democrat Rep. Rashida Tlaib
Mnuchin's appearance Wednesday before the House Financial Services Committee was a continuation of a hearing that had ended with a tense standoff earlier in the month. Back then, Mnuchin complained to Committee Chairwoman Maxine Waters, D-Calif., that the hearing was going on too long and forcing him to miss a meeting with the head of a foreign country.
Waters and Mnuchin were cordial with each other during Wednesday's hearing. Mnuchin stayed until all lawmakers on the panel had the chance to ask their questions, which covered a number of issues — from Trump's taxes to the status of the redesign of the $20 bill and the trade dispute with China.
The administration increased tariffs on an initial $200 billion of Chinese goods last week from 10 percent to 25 percent. But broadening the tariffs to another $300 billion in goods will not go into effect until after public hearings and a final decision by the administration.
Fox News' Alex Pappas and The Associated Press contributed to this report.
Source: Fox News Politics
May 21, 2019; Toronto, Ontario, CAN; Recording artist Drake reacts from the sideline after a play by the Toronto Raptors against the Milwaukee Bucks during game four of the Eastern conference finals of the 2019 NBA Playoffs at Scotiabank Arena. Toronto defeated Milwaukee. Mandatory Credit: John E. Sokolowski-USA TODAY Sports
May 23, 2019
Is rap star Drake getting into the heads of the Milwaukee Bucks, especially star player Giannis Antetokounmpo?
The recording artist and Toronto Raptors fan might take credit for having something to do with the Eastern Conference finals being tied at 2-2 after the Bucks dropped Games 3 and 4 in Toronto.
On Wednesday, a tweet from a senior executive for Octagon, the agency representing Antetokounmpo, called out Drake for his repeated trolling of the Bucks in general and specifically their superstar power forward.
"Imagine a gig & an athlete on VIP seats, right next to the band, stands up on the stage just to show off during the entire game, knowing cameras are on him, occasionally even massaging the singer," wrote Georgios Dimitropoulos, Antetokounmpo's former European agent before he was named senior director for Octagon Basketball Europe. "Security&him both allow it. Never seen anything as disrespectful as this before …"
–Golden State Warriors owner Joe Lacob intends to re-sign Klay Thompson and Kevin Durant when they become unrestricted free agents this summer, even though Durant's agent said the superstar is undecided.
With the Warriors in the midst of a nine-day break before the NBA Finals as they await the winner of the Toronto Raptors-Milwaukee Bucks series, Lacob answered questions about the futures of Thompson, 29, and Durant, 30, from The Athletic.
"The season is still ongoing," Lacob responded. "We are not finished. I have no new ideas or data for you. We love Klay and KD and intend to attempt to re-sign them. Period. I am confident about BOTH of them. But it is their choice to do what is best for them. They have earned that right. Our goal is to keep our team together. We are pretty good."
–Raptors forward Kawhi Leonard's health is just fine, while point guard Kyle Lowry is fighting through significant pain, head coach Nick Nurse told reporters.
"He's feeling good," Nurse said of Leonard, who has shown an occasional limp during the Eastern Conference finals against the Milwaukee Bucks. "No concerns at this point. He's good."
Leonard had his workload managed during the regular season and did not play on back-to-back nights, but he has logged 38.2 minutes per game through 16 postseason games, averaging 31.2 points, 8.4 rebounds, 3.3 assists and 1.5 steals. Lowry has been playing with an injured left (non-shooting) thumb since hurting it in Game 7 of the second round of the playoffs, wearing an oversize, padded glove to aid the healing process.
–The Bucks' Antetokounmpo, Utah Jazz center Rudy Gobert and Oklahoma City Thunder forward Paul George — the three finalists for the 2018-19 NBA Defensive Player of the Year award — highlight the All-Defensive first team, announced by the league.
They were joined by Boston Celtics guard Marcus Smart and Bucks guard Eric Bledsoe.
Antetokounmpo, Gobert and George are repeat awardees; this is the first time on the All-Defensive team for Smart and Bledsoe.
–Field Level Media
Source: OANN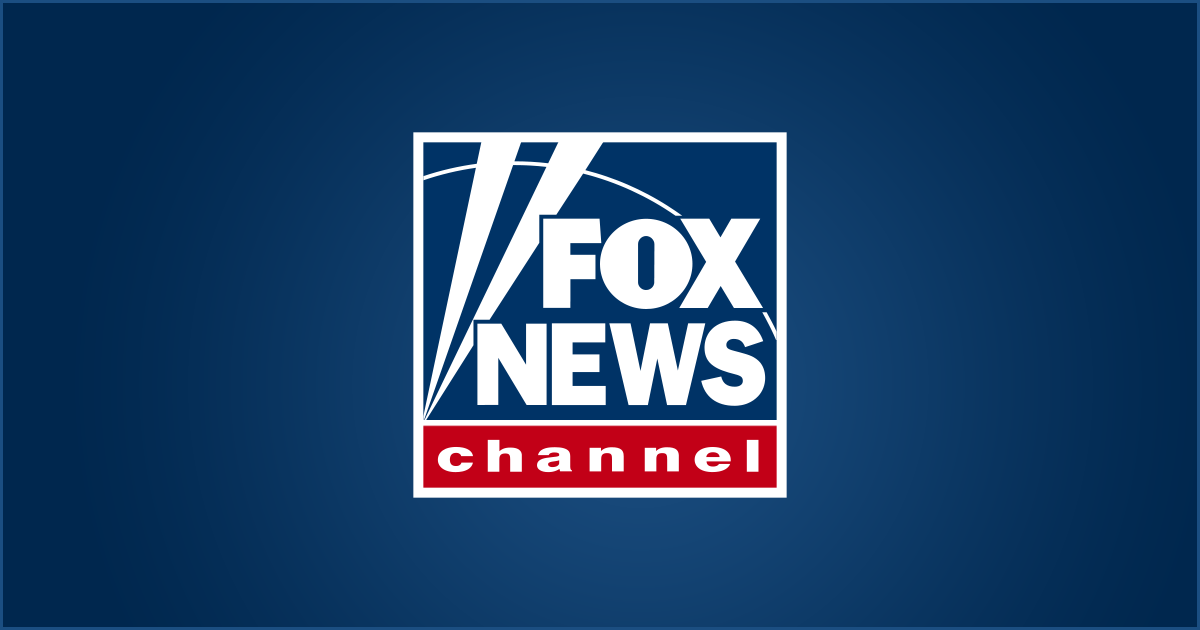 SACRAMENTO, Calif. – Police on Wednesday defended their use of a clear mesh "spit mask" on a combative 12-year-old boy as irate bystanders videotaped the tense encounter in Sacramento while objecting that the boy was being detained.
Officers "appropriately used a spit mask to protect themselves and defuse the situation," Police Chief Daniel Hahn said in a statement. "I am grateful that … nobody was injured during this encounter."
Police also released officer body camera video shows the boy struggling while officers work to calm him. He repeatedly curses and shouts that he can't breathe after he is handcuffed and placed face down on the ground, and police pull the mask over his head.
"Hey, hey, you need to calm down, dude. Calm down, OK?" the officer replies.
Police said they spotted the boy running away from a security guard and helped detain the youth April 28. He was later released to his mother and cited for battery against a police officer and resisting officers.
Sacramento attorney Mark T. Harris said he is considering a lawsuit on behalf of the youth and his mother against the city, the security guard, and an employee at a nearby restaurant who he said also helped detain the boy.
Harris heads the Sacramento office of a national civil rights legal firm that also represents the family of Stephon Clark. Clark was an unarmed 22-year-old vandalism suspect who was killed by Sacramento police a year ago, leading to national protests.
The 12-year-old boy was attending a neighborhood carnival with an adult and his older sister when he was confronted by the security guard, Harris said.
"To a certain extent, police were victims of this themselves," he said. "They didn't know what was going on."
The problem was the police response, he said: "They immediately used force to try to detain the young man, it went very quickly to hands around the neck, hands around the arm."
Harris said it's not clear that the boy actually spit, but even if he did there was no reason to believe it created a health hazard. Moreover, he said police should have removed the mask after the boy's mother arrived and asked that it be removed because her son has respiratory issues.
"The officer should have de-escalated the hostilities," Harris said. Instead, the incident eventually drew eight officers along with the security guard and restaurant employee, "all of this for a 12-year-old who at worst was accused of asking people for money, which he wasn't doing."
Source: Fox News National
Concerns are mounting over the expected prison release of American Taiiban fighter John Walker Lindh this week amid disturbing reports of his jihadist beliefs.
Johnny Spann — whose CIA officer son Mike was killed in an uprising of Taliban prisoners in 2001 in Afghanistan where Lindh was being held — wrote in a letter to a Virginia federal court that Lindh "ignored" conditions placed on him in his 2002 plea deal, CNN reported.
"Nothing will be gained by not enforcing the Laws of the United States and holding those that break it accountable for their actions," Spann wrote the court, CNN reported.
Spann cited a National Counterterrorism Center document — reported by Foreign Policy in 2017 — Lindh "continued to advocate for global jihad and to write and translate violent extremist texts" from behind bars. And Lindh allegedly "told a television news producer he'd continue to spread violent extremist Islam upon his release," according to the NCTC document, Spann argued.
In his petition, Spann asked the court to order "a thorough investigation of the actions of John Walker Lindh that have been reported by the National Counterterrorism Center," CNN reported.
"With all these reports that are out, all these things that have been said and reported, what I am asking to happen is that they do an intense investigation, a thorough investigation of those reports to see if he actually has done that," Spann told CNN.
Meanwhile, NBC News reported Lindh's 2015 letter from prison to a Los Angeles NBC affiliate expressed support for ISIS, saying the terror group that beheaded Americans was "doing a spectacular job."
"The Islamic State is clearly very sincere and serious about fulfilling the long-neglected religious obligation to establish a caliphate through armed struggle, which is the only correct method," Lindh wrote, NBC News reported.
In another letter to NBC 4 Los Angeles, Lindh said he was proud "to take part in the Afghan jihad," NBC News reported.
Lindh's correspondence with journalists and other comments he made in prison formed part of the basis of a 2016 intelligence document by the National Counter Terrorism Center saying Lindh "continued to advocate for global jihad and to write and translate violent extremist texts," NBC News reported.
A memo making a similar point was circulating among authorities last week, the news outlet reported, citing an unnamed U.S. official who read the memo.
Source: NewsMax America
Tina Tchen, the former chief of staff to first lady Michelle Obama, declined Wednesday to be served with a subpoena by a retired Illinois judge seeking the appointment of a special prosecutor in the Jussie Smollett case, according to the process server.
In an email to former Illinois appellate judge Sheila O'Brien obtained by Fox News, the process server wrote that a security guard at the Chicago law firm where Tchen is a partner "called up to her and spoke with her and she said that she in [sic] never going to accept service and to not allow me up to their Law firm.
"She knows all about this Subpoena," the server added.
WHO IS TINA TCHEN, THE ATTORNEY LINKED TO JUSSIE SMOLLETT MESSAGES?
Edward Ryan, who runs the private investigation firm that employs the process server, spoke about the incident with The Chicago Sun-Times.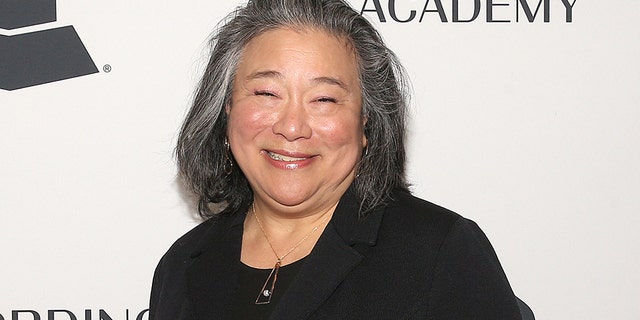 "I don't know why she'd turn it [the subpoena] down, she'll be served eventually," Ryan told the paper.
Tchen did not immediately respond to Fox News' requests for comment.
The subpoena would have required Tchen to appear at a May 31 hearing on O'Brien's request for a special prosecutor and provide "any and all documents, notes, phone records, texts, tape recordings made or received at any time, concerning your conversations with [Cook County State's Attorney] Kim Foxx in re: Jussie Smollett."
Tchen reached out to Foxx on behalf of Smollett's family during the investigation into whether the "Empire" actor faked a hate crime attack on the streets of Chicago earlier this year. Smollett was eventually charged with 16 felony counts of lying to authorities in February, but the charges were, to the astonishment of many, dropped on March 26.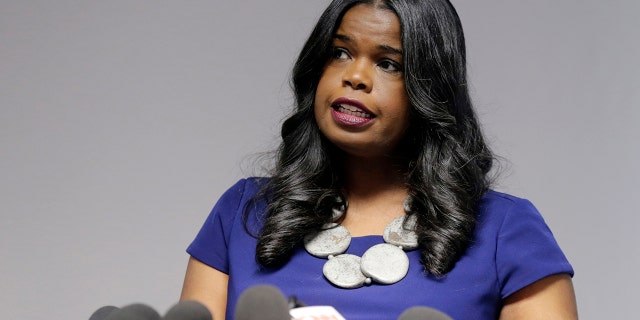 STATE'S ATTORNEY DID NOT 'FORMALLY' RECUSE HERSELF IN JUSSIE SMOLLETT CASE, OFFICE SAYS
In March, The Sun-Times reported that Tchen texted Foxx on Feb. 1 saying she "wanted to give you a call on behalf of Jussie Smollett and family who I know. They have concerns about the investigation." The paper also reported that on Feb. 20, Foxx emailed Tchen: "Spoke to [Chicago Police] Superintendent [Eddie] Johnson. I convinced him to reach out to FBI to ask that they take over the investigation. He is reaching out now and will get to me shortly." Foxx had announced the day before that she was leaving the case, only for her office to clarify the following month that she had "informally separated herself from the decision-making over the case."
Tchen has denied trying to sway the outcome of the Smollett case.
CLICK HERE TO GET THE FOX NEWS APP
"Shortly after Mr. Smollett reported he was attacked, as a family friend, I contacted Cook County State's Attorney Kim Foxx, who I also know from prior work together," she said in a March statement. "My sole activity was to put the chief prosecutor in the case in touch with an alleged victim's family who had concerns about how the investigation was being characterized in public."
Cook County Inspector General Patrick Blanchard is investigating how Smollett's case was handled. O'Brien has also requested that Foxx and her top deputy, Joseph Magats, appear in court next week and produce their internal files.
Click for more from The Chicago Sun-Times.
The Associated Press contributed to this report.
Source: Fox News National
FILE PHOTO: A picture illustration shows Japanese 10,000 yen notes featuring a portrait of Yukichi Fukuzawa, the founding father of modern Japan, August 2, 2011. REUTERS/Yuriko Nakao/File Photo
May 23, 2019
By Shinichi Saoshiro
TOKYO (Reuters) – The yen advanced against its peers on Thursday as persistent U.S.-China trade fears and Brexit concerns fanned risk aversion, lifting the safe-haven Japanese currency.
The yen was 0.1% firmer at 110.240 to the dollar, having pulled back from a two-week low of 110.675 plumbed on Tuesday.
The Japanese currency also rose modestly against the euro, pound and Australian dollar, adding to overnight gains.
Reports that the United States could impose restrictions on Chinese technology company Hikvision renewed market jitters about trade on Wednesday, reversing a relief rally that followed Washington's move to temporary ease curbs against Huawei Technology Co Ltd.
A deepening Brexit crisis also sapped investor risk sentiment. Pressure on British Prime Minister Theresa May to resign increased after her new Brexit gambit backfired and as a key ally resigned from her cabinet.
"While the currency market appears to have mostly priced in May's eventual resignation, it is now trying to work out who might replace her," said Yukio Ishizaki, senior currency strategist at Daiwa Securities.
"The possibility of someone like Boris Johnson replacing May will heighten prospects of a no-deal Brexit and likely lead to further 'risk off.' The mood in the market is darkening as the Brexit ongoings add to prevailing U.S.-China worries."
The pound was little changed at $1.2663 after slipping to $1.2625 overnight, its lowest since Jan. 4.
The dollar index against a basket of six major currencies was steady at 98.064, its rise earlier in the week to a one-month high of 98.134 stalling as U.S. yields declined amid the risk aversion.
The euro was flat at $1.1154, in close range of a 2-1/2-week low of $1.1142 brushed on Tuesday ahead of the May 23-26 European parliamentary election.
The Swiss franc, a safe-haven along with the yen, was a shade higher at 1.009 francs per dollar after advancing 0.15% on Wednesday.
The Australian dollar nudged down 0.1% to $0.6876.
(Graphic: World FX rates in 2019 http://tmsnrt.rs/2egbfVh)
(Editing by Sam Holmes)
Source: OANN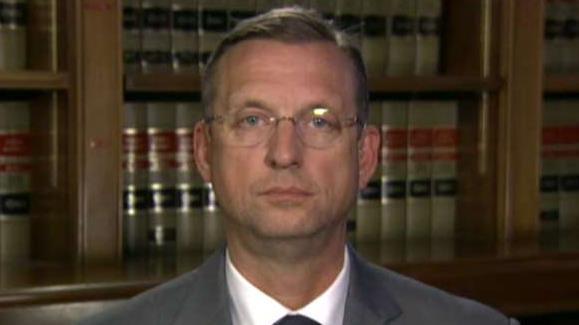 Is the president to blame for being unable to work with Democratic leaders?
Not according to Rep. Doug Collins, R-Ga., who said Wednesday the only thing House Speaker Nancy Pelosi is concerned with is keeping her job.
"Why would the blame be thrown at the president when you have the speaker of the House accusing him, basically, of a crime today before she ever gets there? The president is like anyone — he wants to do business, he wants to try, but when you have people kicking sand in his face or accusing him of a crime he is going to react," Collins said on "The Story with Marth MacCallum."
ANGRY DEM SAYS TRUMP 'RAPING THE COUNTRY,' AS IMPEACHMENT PUSH NEARS CRITICAL MASS
Trump on Wednesday demanded Democrats end what he called their "phony investigations" before he'll negotiate with them on issues like infrastructure, after cutting a meeting short with House Speaker Nancy Pelosi and Senate Democratic Leader Chuck Schumer.
Moments before that sit-down, Pelosi accused Trump of having "engaged in a cover-up" regarding the Russia probe.
Collins noted the president's passion for his job and took a shot at Democrats for not wanting to work with those across the aisle and only being concerned with the 2020 elections.
"This president is passionate about the American people, he's passionate about putting Americans back to work, he's passionate about doing infrastructure, and what we've seen so far, the Democrats, especially the speaker, is passionate about keeping her job and telling everyone else what they've done wrong and that is just the wrong idea. They want to see him defeated in 2020, instead of actually having an agenda here in the House," Collins said.
The congressman also noted a split within the Democratic Party saying that some Democrats just want to move on from anti-Trump actions.
TRUMP DEMANDS END TO 'PHONY INVESTIGATIONS' IN FIERY ROSE GARDEN STATEMENT, AFTER MEETING WITH DEMS CUT SHORT
"They have to feed two different bases. One says impeach. One says, go after Trump, do everything they can to destroy the president. While the others in their caucus are saying we don't want this, our voters don't want this and they want to move slowly," Collins said.
"They lose on the politics, they lose on the facts and so now the American people are the ones losing in the end because they are not doing anything with the majority they have in the house."
Fox News' Alex Pappas contributed to this report.
Source: Fox News Politics
Dec 23, 2018; Charlotte, NC, USA; Carolina Panthers quarterback Cam Newton (1) stands on the sidelines in the second quarter against the Atlanta Falcons at Bank of America Stadium. Mandatory Credit: Jeremy Brevard-USA TODAY Sports
May 23, 2019
Cam Newton was not cleared to throw as the Carolina Panthers worked out together Wednesday, four months after the quarterback had shoulder surgery.
Head coach Ron Rivera said the team remains focused on Newton returning at full strength for the start of training camp in July.
"We'll just continue to go through the process," Rivera said after the first day of organized team activities in Charlotte, N.C. "It's really … not that big a deal."
Tight end Greg Olsen, whose 2018 season ended in December with a foot injury, told reporters he can be a full participant at OTAs. Injuries have limited him to just 16 games combined over the past two seasons.
–NFL commissioner Roger Goodell said the league has not been in touch with Kansas City Chiefs wideout Tyreek Hill as authorities continue to investigate allegations of child abuse.
"We will not interfere with that," Goodell said at league meetings in Florida. "The priority is the young child. We will obviously be cooperative with whatever the court wants."
Specifically, Goodell said any disciplinary action from the NFL will wait until the investigation concludes.
–A relative of Tyrann Mathieu has been accused of trying to extort $5 million from the Chiefs safety.
ESPN reported that Geourvon Keinell Sears, 21, allegedly threatened to reveal personal information to TMZ if he didn't receive the money.
Mathieu's lawyer, Denise White of EAG Sports, confirmed to KMBC 9 in Kansas City that Mathieu was the target, saying he is working through a "private and personal family issue."
–Robert Kraft's trial has been suspended indefinitely as prosecutors appeal a judge's ruling over the admissibility of video surveillance footage.
The suppression of the key video evidence could end the case against Kraft, who was charged with a misdemeanor alleging he paid for sex at a massage parlor in Jupiter, Fla.
Judge Leonard Hanser in Palm Beach County postponed the trial indefinitely as prosecutors launched an appeal of Hanser's decision to disallow secretly shot video of Kraft.
–Minnesota Vikings tight end Kyle Rudolph confirmed report that the team has offered him a five-year extension.
Rudolph, 29, told ESPN that Pro Football Talk's report — which said the team's offer would make Rudolph one of the NFL's highest-paid tight ends — was accurate.
"That's what they're working at," Rudolph said, per ESPN. "We're in a tough situation. Everybody knows that. That's why we (the Vikings) have the best salary-cap guy in the NFL and I believe I have one of the best agents."
–The NFL awarded the 2021 draft to Cleveland and the 2023 draft to Kansas City.
The event in Cleveland will be centered downtown, around FirstEnergy Stadium, the Rock & Roll Hall of Fame and on the shore of Lake Erie.
The 2023 draft in Kansas City will be centered on the Missouri side of downtown, around Union Station and the National World War I Museum and Memorial. The 2022 draft location has yet to be determined.
–The NFL Scouting Combine will remain in Indianapolis through at least 2021, while on-field workouts will be moved to the afternoon and prime time in 2020.
The agreement to hold the combine in Indianapolis also includes a series of annual options in the future.
–NFL overtime rules will be unchanged for the 2019 season, the competition committee declared at its annual May meeting in Florida, with the proposal to be revisited in 2020.
The NFL also banned teams from using several well-known one-on-one practice drills, including the popular Oklahoma Drill and the Bull in the Ring.
–Recently retired defensive end Chris Long admitted to using marijuana as an NFL player, saying the league should move toward a place where testing positive does not result in a suspension.
"I certainly enjoyed my fair share on a regular basis throughout my career," Long said on The Dan Patrick Show. ."..Listen, if not for that, I'm not as capable of coping with the stressors of day-to-day NFL life. A lot of guys get a lot of pain management out of it."
–The Washington Redskins placed linebacker Reuben Foster on injured reserve with a torn left ACL and signed free agent linebacker Jon Bostic.
Foster, 25, sustained the season-ending injury Monday. Bostic, 28, is on his fifth NFL team after spending last year in Pittsburgh.
–The Oakland Raiders signed tight end Erik Swoope and released quarterback Landry Jones.
–The New Orleans Saints signed offensive linemen Marshall Newhouse and Ryan Groy and released offensive tackle Derek Newton.
–The Arizona Cardinals signed defensive tackle Terrell McClain.
–Free agent wideout Jermaine Kearse visited the Detroit Lions, but the sides were unable to agree on a contract, according to multiple reports.
–Cincinnati Bengals offensive lineman Alex Redmond was suspended four games for violating the NFL's PED policy, ESPN reported.
–Field Level Media
Source: OANN
---